Office Christmas Party | TJ Miller's rowdy winter revels offer a welcome shot of seasonal cheer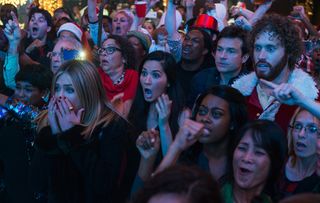 (Image credit: Photo Glen Wilson)
Bursting into cinemas with a raucous 'Ho-ho-ho', Office Christmas Party delivers further proof that when it comes to celebrating the festive season, Hollywood comedies rejoice in Saturnalia rather than the Nativity.
The story's Lord of Misrule is comedian TJ Miller's party-hearty trust-fund heir Clay Vanstone, who decides to host a gargantuan office Christmas party that will somehow stop his resentful CEO sister Carol – Jennifer Aniston in full Queen Bitch mode – from closing his Chicago branch of tech company Zenotek and laying off its staff.
The company's pussyfooting chief technical officer (Jason Bateman), its bold programming wizard (Olivia Munn) and uptight HR manager (Ghostbusters' Kate McKinnon) fall behind his cockeyed scheme to put on an epic party that will land them a crucial client. But with Clay in charge of the rowdy winter revels, you just know Zenotek's building will end up looking like the Nakatomi Plaza at the close of Die Hard…
Office Christmas Party won't go down as a festive classic, but its good-humoured goofiness makes it hard to dislike. Sure, the plot is hopelessly contrived and Aniston's character arc even less believable, but the cast are much better than the script. With Bateman and Munn providing level-headed ballast, hilarious improvisers Miller and McKinnon have licence to go giddily over the top. And with Blades of Glory directors Josh Gordon and Will Speck treading a fine line between gross-out excess and mawkishness, Office Christmas Party succeeds in its mission of bringing a welcome shot of seasonal cheer.
Certificate 15. Runtime 105 mins. Directors Josh Gordon, Will Speck
https://www.youtube.com/watch?v=g_itBfEC_TI
Get the latest updates, reviews and unmissable series to watch and more!
Thank you for signing up to Whattowatch. You will receive a verification email shortly.
There was a problem. Please refresh the page and try again.