Corrie's Jane Danson: 'Leanne's quite a lonely soul, really - that upsets me!'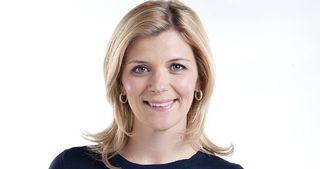 You can't blame Jane Danson (opens in new tab) for being surprised when she first discovered that her Corrie character, Leanne, would become the victim of domestic abuse by son, Simon. here, the actress tells TV Times (opens in new tab) how she'd love Leanne to find some happiness…
Leanne is a Battersby and normally more than capable of handling herself, so how is Simon getting away with being abusive towards her?
"There is a soft side to Leanne but she's also got a very strong, feisty side, so I was like 'Oh, this might be a bit tricky.' But Simon is a kid who's gone through so much in the past few years. If people haven't died, they've walked away from him, and it's compounded by the fact that he's going through puberty. So I can totally make sense of why he's doing this to her."
Simon left Leanne stunned and bruised a few weeks ago when he hurled a remote control at her. Does his behaviour get any worse?
"Dan Jones – a client of Leanne's from her days as a prostitute – tells Simon about his mum's old job this week, the once angelic schoolboy's behaviour starts to get much darker. This is a bridge too far for him, and he can't contain his anger any more. He starts to call her Leanne instead of mum, and attacks her, mentally. That almost traumatises her more than the physical injuries. He lashes out when he's run out of words. Being a youngster, he can't articulate how he's feeling, so it comes out in a shove or a punch or a pull of the hair."
How does Leanne react?
"Leanne's very proud and wants to fix it herself, but I don't agree with some of the things she does. She keeps rewarding him, saying things like: 'If you're good, I'll get you those football boots, or that new phone', whereas there would be no rewards from me until I saw a significant change in behaviour. But she's on her own and isn't strong enough to do that. She hasn't got that partner there to support her."
Is there a positive outcome to this storyline?
"I really don't know how the storyline will come to a head, I'm hopeful that Simon will, eventually, put his demons to bed. That said, he's Peter Barlow's son, so he'll probably hit the bottle soon!"
So will it be long before the 'old' Leanne returns?
"It's nice to show that vulnerable side, but equally I'm very protective of her feisty side, and I think viewers like her when she's strong. So I don't want her to be trampled on too much."
Leanne has suffered some traumatic events since she first arrived in Weatherfield in 1997. Such meaty material must be an actor's dream, but do you think it's about time Leanne got the chance to smile, too?
"You can be happy and still have the drama, but she never seems to be able to have the two, does she? With Kal, it was all going so well, and then she fell at the last hurdle. That provokes more drama, which is great, but I don't want the viewers to get fed up of me crying, because I've done quite a lot of that lately! As Leanne's got older, everybody's left her. Her mum, Stella, came and went, and all the men in her life have disappeared for one reason or another. She's quite a lonely soul, really and that upsets me! I'd like her to have the happy ever after that she's never quite got. Just for once, for everything to go right. To show a fun side to her would be interesting. I remember her having lots of fun with Danny Baldwin [played by Bradley Walsh]. But I think I've just got to accept that she's one of those characters who's not going to get the comedy!"
One of your best moments came in Corrie's live episode in December 2010, which helped you scoop Best Dramatic Performance at the British Soap Awards the following year. Another live instalment is planned this year, but you're not involved. Why?
"Having been a massive part of the last one, I just feel that I've ticked that box. I said to the bosses: 'I'd rather sit this one out.' It went so well last time and I had quite a big part in it, and I'd just like to leave it where it is."
Who would you like to be cast as Leanne's next love interest?
"If I had my way, it would be my hubby, Robert. He'd be perfect. Leanne needs somebody quite strong – she likes strong bad boys. Robert was in the show a few years ago and his character went to prison [he played Tony Gordon's henchman, Jimmy Dockerson] so maybe he could come out of prison, find Leanne and be my bad boy at work! And there'd be no awkwardness with the snogging scenes. I'll pitch it!"
Coronation Street continues weeknights on ITV.
Get the latest updates, reviews and unmissable series to watch and more!
Thank you for signing up to Whattowatch. You will receive a verification email shortly.
There was a problem. Please refresh the page and try again.