New Doctor Who companion cast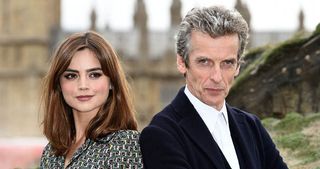 (Image credit: PA WIRE)
Doctor Who star Peter Capaldi has given the biggest hint yet that the famous time traveller's new companion has been cast. And it appears it's someone who the actor has worked with before.
"We will have a new companion, and I'm excited because obviously I know who this person is," Peter told Brazilian website Omelete while touring South America to promote the long-running science fiction show. He is said to have added that he had previously worked with the Doctor Who newcomer.
So who is being lined up to fill the shoes left by Jenna Coleman's character Clara Oswald, who died in the show's 2015 Christmas Day episode? The Scottish actor refused to give anything away, but did reveal the pair would have a very different relationship, saying the new companion would know "very little about the Doctor".
"Clara had prior knowledge of the Doctor," said Peter. "It was conceived as a human connected to your timeline, and so had access to the cosmic nature of the Doctor. She understood a little about how he was. And as she was already with [11th Doctor] Matt [Smith], she knew the Daleks and the TARDIS. Now we have someone who knows very little about the Doctor."
It had previously been reported that EastEnders actress Rakhee Thakrar, who played Shabnam Masood, had been chosen for the role, but given that she and Peter appear not to have worked together this might now be less likely.
Whoever has nabbed the role will be joining the the show as Broadchurch creator and writer Chris Chibnall takes over from Steve Moffat. He or she might also have a new Doctor to contend with after Peter hinted that he might leave the role next year.
Thank you for signing up to Whattowatch. You will receive a verification email shortly.
There was a problem. Please refresh the page and try again.