Anna Bates arrested over her rapist's death in Downton finale!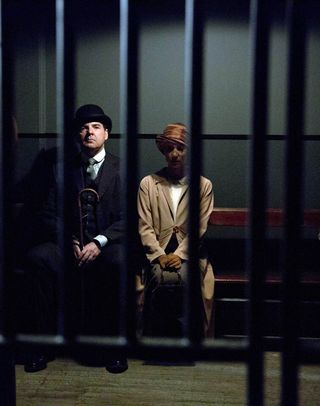 (Image credit: Nick Briggs)
The OMG moment in the Downton finale was the arrest of Anna Bates (Joanne Froggatt (opens in new tab)) in connection with her rapist's death.
To the horror of Anna and John Bates (Brendan Coyle (opens in new tab)), Inspector Vyner (Louis Hilyer (opens in new tab)) wanted to talk to them again about the death of Alex Green - the man who raped Anna.
Only Vyner doesn't know that… but it was clear that he suspected it.
"We've found out Mr Green attacked women," he told Anna. "His victims were small, slight women who given him no encouragement.
"Very unpleasant, wouldn't you agree, Mrs Bates?" Vyner said pointedly to Anna.
The further bad news was that Vyner wanted to interview Anna at Scotland Yard, while the household was in London for Rose's (Lily James (opens in new tab)) marriage to Atticus Aldridge (Matt Barber (opens in new tab)).
And, without warning or giving her a reason, Vyner put Anna in a line-up with four other women.
He let Anna go but then, again without warning, Viner turned up to arrest Anna, shocking the entire household.
He said there was a witness who put Anna by Green when he fell/was pushed in front of the car.
"She won't be convicted," said Lady Mary (Michelle Dockery (opens in new tab)) to John. "She won't even be tried. They have nothing to go on."
Is she right?
The Earl of Grantham (Hugh Bonneville (opens in new tab)) did a bit of detective work, too and uncovered that Marigold is Lady Edith's (Laura Carmichael (opens in new tab)) daughter.
He revealed this to Cora (Elizabeth McGovern (opens in new tab)) after a touching closing sequence to mark Remembrance Sunday, with the Earl unveiling the Downton war memorial.
Will he reveal what he knows to Edith, too?
There's plenty to keep fans guessing until the Downton Abbey (opens in new tab) Christmas special, which will air on Christmas Day.
Get the latest updates, reviews and unmissable series to watch and more!
Thank you for signing up to Whattowatch. You will receive a verification email shortly.
There was a problem. Please refresh the page and try again.