Joanne Froggatt: The worst thing about playing a Victorian serial killer was having to sing!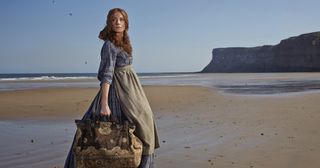 Former Downton star Joanne Froggatt says the worst part of playing a real life Victorian serial killer in Dark Angel was singing – "It's the worst thing ever!"
Joanne Froggatt may be playing the role of a terrifying serial killer in Dark Angel, but she says that she was the one scared out of her wits during filming.
The Downton Abbey star has taken on a very different kind of period drama for the upcoming ITV series, where she stars as Mary Ann Cotton, a Victorian multi-murderess who is thought to have killed up to 17 people, including her various husbands and her own children and stepchildren.
But Joanne, 36, has revealed that the main terror on set was her phobia about singing in public – along with her dislike of cockroaches, being in a horse and cart, and the general horror of poverty-stricken Victorian life.
Talking about the sex scenes her character is involved in, she admitted: "Certainly I was a little nervous about those scenes. But the sexual content is not there to titillate the audience in any way, shape or form. There's no nudity or anything like that.
"It simply helps to tell the story and makes perfect sense in the context. To that degree there are many stolen moments and affairs. I think people who know me as Anna from Downton Abbey will be more shocked at other parts of this story, to be honest."
She went on: "I was also nervous about having to sing. And having to deal with cockroaches. Plus I found out I don't like being in the back of an old-fashioned horse and cart because that feels very unstable. There are lots of things I found challenging. Lots of challenges to overcome.
"But as long as I know they are there for the right reason, it's not a problem. This was a role I couldn't say no to and I totally believe every one of those moments needs to be included."
OK, so plenty of us cringe at the thought of singing in public, but it was a genuine cold-sweat-inducing fear for Joanne.
She said: "Singing is the worst thing ever. I literally want to cry if I have to sing in public. I find it really hard. I have a real thing about it.
"I've never sung solo on screen before. I was dubbed doing it in a drama called Nature Boy and I've sung in a group. But never on my own.
"I had two singing lessons just to manage to do this little ditty that Mary Ann can barely sing in tune. I was terrified of doing it, but I think it actually turned out all right."
Dark Angel is due to screen on ITV later this year.
Get the latest updates, reviews and unmissable series to watch and more!
Thank you for signing up to Whattowatch. You will receive a verification email shortly.
There was a problem. Please refresh the page and try again.