Downton Abbey's elegant dinner party becomes a gory horror story fit for Halloween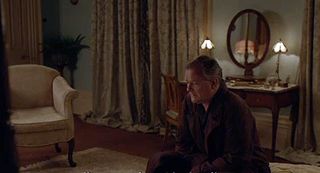 Anyone trying to enjoy a late supper while watching Sunday night's Downton Abbey would have quickly abandoned their food so they could use both hands to hide their eyes from the stomach-churning horror played out during part of the episode.
Viewers were warned that the episode contained some "shocking scenes" but there was no mention of the one-man bloodbath that was about to erupt.
The usually genteel drama, with its discreet excitements, became a horror story fit for Halloween when Robert, Earl of Grantham (Hugh Bonneville (opens in new tab)), was taken ill with a burst stomach ulcer right in the middle of a large dinner party.
"I'm feeling a bit rough," Robert had told his good lady wife, Cora (Elizabeth McGovern (opens in new tab)), the night before.
Robert had told wife Cora he had a "touch of indigestion"
Then, in scenes worthy of The Exorcist, as Downton's guests settled down for dinner and debated the fate of the local Cottage Hospital, Robert stood up and started spewing blood all over the table, before anyone had time to take cover.
Robert actually had a stomach ulcer - and it burst all over his dinner party
Directly in Robert's line of fire was his poor wife, who was sitting opposite him. Blood spattered all over her as Robert uncontrollably heaved not once but twice. Cora was shocked but, to her credit, was immediately concerned for her husband.
The blood Robert vomited hit Cora full in the face
The Dowager Countess (Maggie Smith (opens in new tab)) was horrified. But was her concern for her son, or for the gory show that was being played out in front of her VIP guest, Health Minister Neville Chamberlain (Rupert Frazer (opens in new tab))? It wasn't 100 per cent clear.
The Dowager was horrified by Robert's sudden, bloody illness
What was clear was that Robert needed urgent treatment. As luck would have it, Doctor Clarkson (David Robb (opens in new tab)) was also at the dinner table and he leapt into action.
"If this is it, just know that I have loved you very much," Robert gurgled to Cora, as he lay in a pool of claret (and not the vintage kind being served with dinner).
As Robert lay in a pool of his own blood, the dinner party came to a swift end
But it was OK. The downstairs staff had everything under control…
"Let's take up some coffee," said Cook (Lesley Nicol (opens in new tab)).
Some of the guests looked like they needed something a lot stronger than coffee…
"There's a dinner that delivered more than you bargained for," said Downton resident Tom Branson (Allen Leech (opens in new tab)) to Chamberlain.
More than viewers bargained for, too, we suspect…
Downton Abbey (opens in new tab) continues on ITV, Sunday, October 25, 9.00pm - and fans can rest assured that Robert is all cleaned up and recovering nicely by then.
Get the latest updates, reviews and unmissable series to watch and more!
Thank you for signing up to Whattowatch. You will receive a verification email shortly.
There was a problem. Please refresh the page and try again.