Downton Abbey star Dame Maggie Smith says her terrifying reputation may be deserved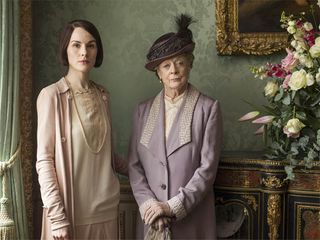 (Image credit: Nick Briggs)
Dame Maggie Smith, who plays Downton Abbey's formidable Dowager, has admitted her reputation as being terrifying to work with may well be deserved, despite the fact that her theatre friends believe she is "a genius".
Dame Maggie, 80, is aware of her notoriety of being difficult to live with but says it's sometime born out of being being scared herself.
In a revealing interview in today's Telegraph magazine the actress admits that: "Obviously at some times I have been like that – the awful thing is, I'm sort of very aware when I'm being difficult but I'm usually … so scared.
"And that's shaming, at the age one is. Because every time I start anything, I think, 'This time I'm going to be like Jude [Judi Dench], and it will all be lovely, it will be merry and bright, the Quaker will come out in me'.
"But it never works. Jude has a wonderful calm, it's very enviable. I think it would be hairy if she let fly, but I've never seen that.
"But it's gone too far now, to take back. If I suddenly came on like Pollyanna, it wouldn't work – it would frighten people more if I were nice. They'd be paralysed with fear. And wonder what I was up to."
Reflecting on the final series of Downton Abbey, Dame Maggie said she felt it was the right time for its doors to close.
She said: "It was one of those odd things – nobody knew it was going to go careering on as long as it did, and it was jolly exhausting.
"But [my character] has sort of faded rather nicely. I just had dumb arguments with Penelope [Wilton, who plays Isobel Crawley], which was quite fun. We had a lovely time. She's such a great actress – we used to shriek with laughter."
Of course, most Downton fans will be wondering whether or not the Dowager returns for the Downton finale… Let's hope so
The last series of ITV's Downton Abbey draws to a close at 9pm on Sunday
Get the latest updates, reviews and unmissable series to watch and more!
Thank you for signing up to Whattowatch. You will receive a verification email shortly.
There was a problem. Please refresh the page and try again.