Downton Abbey's Lesley Nicol: 'Mrs Patmore and Daisy can be vile!' (VIDEO)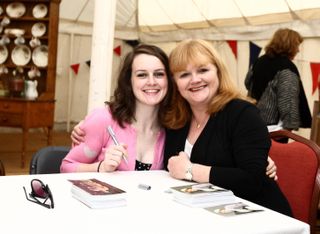 (Image credit: PA Archive/Press Association Images)
We didn't think it was possible to love Downton Abbey's Sophie McShera and Lesley Nicol more until we filmed this interview.
Chatting to What's on TV, Sophie and Lesley pretended to deny their close bond, but it's plain to see…
Sophie, best known as Downton's assistant cook, Daisy Mason, joked: "We despise each other off screen. It's a nightmare!"
Lesley, who plays Downton, cook, Mrs Patmore, added: "I'm really over her now, it's been the longest six years."
During the interview the duo revealed there will be sparks between Daisy and Mrs Patmore this series, although the unrelated characters share an almost mother-daughter bond:
Sophie: "The relationship this year is quite tricky."
Lesley: "The dynamic has become different. Daisy has a brain, and it's working... Mrs Patmore's protective love of Daisy certainly hasn't gone away. They're just more challenging to each other."
Sophie: "That's the joy of this relationship Julian Fellowes wrote... They can really be vile to each other and really fall out, but you never fear that they're not going to come back together."
Lesley: "Which is pretty accurate for mothers and daughters sometimes, isn't it? They love each other to bits but can be vile."
Lesley also revealed filming their final scenes was an emotional experience: "The mood on set was emotional… it's a big deal for it to finish."
Cinderella star Sophie said: "We had a lovely last scene were we were altogether. It was perfect that we didn't have to wrap on our own."
Lesley added: "Bit by bit people would have their little well up and then go away. And then at the end there was a bit of a meltdown. But you expect that. It would have been a bit odd if it wasn't like that."
For the full interview with Lesley and Sophie watch the video, above. "]
More Downton Abbey video and news available here.
Get the latest updates, reviews and unmissable series to watch and more!
Thank you for signing up to Whattowatch. You will receive a verification email shortly.
There was a problem. Please refresh the page and try again.