Elizabeth McGovern: 'I can't actually believe I'm talking to you about the final Downton!'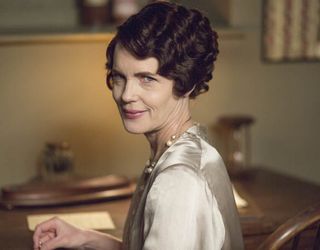 (Image credit: Nick Briggs)
Elizabeth McGovern gives TV Times (opens in new tab) some teasers about what's in store for Cora and the rest of the Crawleys in the Downton Abbey (opens in new tab) finale...
How does it feel to be so close to the end of the show now?
"I can't actually believe I'm talking to you about the final episode. It's strange because mentally the cast has had a lot of time to prepare for this moment. We all made the decision a year ago that this would be our last season, so we psyched ourselves up for it. But I don't think the reality that Downton's over will really hit me until the final credits roll."
So can you tell us what might be the future for the house?
"I'm not able to say, but anyone who's watched regularly will have seen a slow disintegration of their way of life. There's a dawning on everybody individually that they're looking at the end. It's been built into the show that time takes its toll. The great march of history is leaving them behind. You'll have to watch to see what that means for them."
Will Mary finally be happy in love?
"Anything's possible! All I'll say is there's never a dull moment in Mary's life. Cora's much less wound up about them getting married now. As a mother she's more interested in them finding their independence and following their destinies, which is admirable."
Was it hard to film the memorable scene a few weeks ago where Robert had a burst ulcer?
"I'd say! They had some back-up tablecloths but you couldn't have a back-up of Cora's dress! Of course she's worried about the state of Robert's health and in the final episode she's still concerned that he's doing too much."
Cora and Violet have gone head-to-head over the hospital this series, have you enjoyed that?
"Filming those scenes with Maggie Smith has been great fun. If you have to go to war you may as well do it with a challenging opponent! There's more of the story to come so I can't say she forgives me quite yet."
What can you tease for Christmas?
"I don't want to spoil things, but what I can say is that by the end of the Christmas episode the audience will feel they've had a chance to say goodbye to their favourite character. You get to have a moment with each and feel you know something about where their path is taking them."
Will there be a Downton film?
"I don't know if it'll happen, I've just heard the rumour, like you. I'd certainly read the script if there was one. Would I do it? It would depend on how good the idea is."
Will you miss Cora?
"I think it's time to put Cora to bed and do other things. It's been a great job but it's time to move on."
But was it sad on your final day?
"There were waves of tears, from people you didn't expect. The atmosphere on set is usually jokey, but the end-of-an-era feeling hit us as we realised it was the last day filming at Highclere, or the last ever dinner party. The wrap party was bittersweet, but mostly we celebrated. Downton's been a wonderful gig to be part of."
The Downton Abbey series finale screens on ITV on Sunday, November 8 at 9pm
Caren has been a journalist specializing in TV for almost two decades and is a Senior Features Writer for TV Times, TV & Satellite Week and What's On TV magazines and she also writes for What to Watch.
Over the years, she has spent many a day in a muddy field or an on-set catering bus chatting to numerous stars on location including the likes of Olivia Colman, David Tennant, Suranne Jones, Jamie Dornan, Dame Judi Dench and Sir Derek Jacobi as well as Hollywood actors such as Glenn Close and Kiefer Sutherland.
Caren will happily sit down and watch any kind of telly (well, maybe not sci-fi!), but she particularly loves period dramas like Call the Midwife, Downton Abbey and The Crown and she's also a big fan of juicy crime thrillers from Line of Duty to Poirot.
In her spare time, Caren enjoys going to the cinema and theatre or curling up with a good book.
Get the latest updates, reviews and unmissable series to watch and more!
Thank you for signing up to Whattowatch. You will receive a verification email shortly.
There was a problem. Please refresh the page and try again.