Nigel Harman: 'I come to Downton and shake the place up!'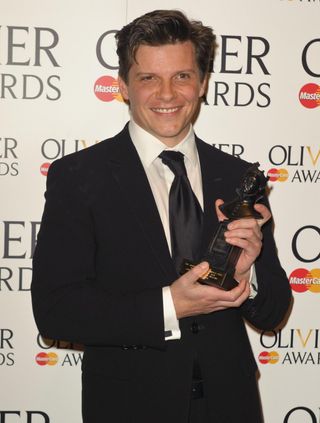 Former EastEnder Nigel Harman talks to TV Times magazine (opens in new tab) about moving into Mount Pleasant (opens in new tab) (Wednesday, Sky1HD) his nerves on joining Downton Abbey and playing Simon Cowell in Harry Hill's new musical…
You're starring opposite Samantha Womack in the new series of Mount Pleasant as a couple who have suddenly moved away from London. What are they hiding?
"You definitely find out some more in the second half of the series, but whether or not you're going to be satisfied as an audience I don't know! Bradley hasn't always lived his life on the right side of the law…"
Why did you want to take on the role?
"He's so eclectic. I like that we never know where he's going and his bold choice in bad party shirts! I also love that he's a 'flick-switch guy' in that he can be quite volatile."
What was it like acting with Samantha?
"We found very quickly there was an instant chemistry and trust. We've had similar experiences being in musical theatre and Enders."
Do you still watch EastEnders?
"I don't, no. Even when I was it, I watched it avidly in the first section and then used to just drift in and out when I had big storylines coming up to see how it was coming across. Now I don't really watch it at all unless I've got a mate in it. Yes, so now I'm in that situation of do I have to watch again because Sam's back in it? I'll just get her to tell me what happened, I think."
You'll also be starring alongside David Bradley. What has that been like?
"David's a mate as we worked together on the Harold Pinter play The Caketaker a long time ago. He's very funny, brilliant to work with and one of those actors that if I know he's doing something, I'll watch it. I phoned him when I was offered the role and he said: 'I love it, I really have a good laugh and it's so nice to be in a show where I don't have to die!' So I was like, brilliant I'm in!"
What's so great and special about Mount Pleasant, do you think?
"It's a happy show that has a really warm heart. There's a lot of television that's grey-skied and that really has an important place in drama, but I also like what Mount Pleasant offers – which is one minute there's a fight and then next, a really good cheap gag!"
You also have a role in Downton Abbey. We're going to see you make your debut in episode three as visiting valet Mr Green…
"I'm nervous, you know. I saw a trailer the other night and my little 'eek' manages to make it in for about 2.1 seconds. I was like: 'Wow, that's Downton Abbey, I'm in that.'"
What is Mr Green like?
"He's a complicated man, Green, and his shadow is darker than Bradley's. He's a really charming man and he's all things to all people…"
What can you say about your storylines in the show?
"It's a really lovely storyline and working with Joanne Froggatt [head housemaid Anna] is manna from heaven. So I'm lucky, but nervous. I hope it's all right. I surprised myself because normally I'm like: 'Yeah it's just work'. But this one I really hope I add to it or at least maintain the standards of the show."
Were you a big fan of Downton before?
"I missed it, if I'm being honest, I've seen little bits. But in a way it was really helpful not to have any preconceptions because my character is clearly an outsider who comes to Downton and shakes the place up."
You've also just been unveiled as the star of Harry Hill's new X Factor musical I Can't Sing! in which you'll be playing TV's one and only Mr Nasty Simon Cowell...
"It's a brilliant, anarchic, irreverent musical that Harry Hill and Steve Brown have put together, which when I saw the script and heard a couple of songs I was like 'Oh My God'. So I met them and they asked me to do it. Three weeks later I'm doing a photoshoot with Simon Cowell and I just thought, 'This the closest I'm going to get to One Direction!'"
How do you feel about portraying Simon?
"I read an interview where Simon was asked what advice he'd give me about playing him and he said: 'Just go out there and be a d*** every night!' As you can see, he's really into the whole 'Let's go as far as we can with this!'"
You're having an amazing time at the moment!
"When you look at Pleasant into Downton into Cowell, it is really diverse and I've always been looking towards playing different things that challenge me. On the whole I've done that this year, so I'm proud - and hope what I've done is good!"
Get the latest updates, reviews and unmissable series to watch and more!
Thank you for signing up to Whattowatch. You will receive a verification email shortly.
There was a problem. Please refresh the page and try again.