Things got a bit teary at the Downton Abbey Ball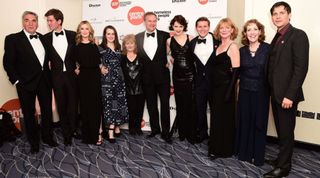 Downton Abbey's stars have been speaking about their sadness that the period drama is drawing to a close as they led a charity appeal at a ball inspired by the show.
The Downton Abbey Ball in aid of Centrepoint was held at London's Savoy Hotel, featuring performances from many of the show's stars, and was the first time many of them had spoken about the ITV programme bowing out later this year after series six and a Christmas special.
(Ian West/PA)
Jim Carter, who plays Mr Carson, said: "It's probably the right time – everything has to come to an end, but we shall miss it enormously.
"I shall miss the fact that it's dictated my life for the last six years, but then there's always the challenge of doing something new so that's all right, I'll take it in my stride."
(Ian West/PA)
Allen Leech, who left his role as Tom Branson last year, agreed: "I think we all knew for a while it was going to end and there is a sense of sadness, but also a sense of achievement about what we've done with the show. It's the right time for it to finish."
Samantha Bond stars as Lady Rosamund and said she wouldn't waste a moment of the final series, which is currently filming.
She said: "You know you're coming to the end of something so you grasp everything, each moment, to enjoy and savour."
Elizabeth McGovern, who plays the Countess of Grantham, drew parallels between the plot and real life, saying of the family: "Their lives are being eroded in the story, soon to be totally annihilated, as is the series, so there's something very bittersweet about seeing that played out."
(Ian West/PA)
Meanwhile, Laura Carmichael (Lady Edith) was in no doubt about who would be the most upset in the cast: "We were asked who was going to cry the most and everyone said me. I would say me too, I'm the weak one."
Sophie McShera, who plays kitchen maid and aspiring student Daisy, added that floods of tears from the cast were just around the corner.
"We're not getting maudlin yet, crying and saying, 'This is our last scene in the kitchen,' but I think we will," she said. "I'm not going to think about it yet, it's too weird."
On what she would like to see happen to her character, she continued: "I want Daisy to get her exams. I know Mrs Patmore wants a dog, but I think that's maybe not going to happen."
(Ian West/PA)
Jim said of his alter ego's long-running, will-they-won't-they romance: "I'll leave that to Julian Fellowes (series creator), but Mr Carson and Mrs Hughes have got to get together, haven't they?"
Lesley Nicol, who plays cook Mrs Patmore, offered her highlights of Downton.
She said: "When Dame Kiri Te Kanawa (who guest starred) sang and we all went and watched her rehearsal at 8 o'clock in the morning and no one had ever heard anything like it.
"We've had a laugh, it's been a very special group of actors, a good company of actors."
(Ian West/PA)
Some of the stars also addressed the rumours that Fellowes is plotting a Downton film.
Samantha said: "I have only heard it as a rumour as well, but obviously everyone would be delighted to do it.
"It's a question of how do you get everyone in the right place and people back together again at the same time."
Laura said of whether she would do it: "I don't know, I'd have to have a look at the script, if Julian writes one."
Get the latest updates, reviews and unmissable series to watch and more!
Thank you for signing up to Whattowatch. You will receive a verification email shortly.
There was a problem. Please refresh the page and try again.