Physical: 100 cast — meet the contestants of the Squid Game-style game show
Meet the stars getting Physical in Netflix's gruelling reality series.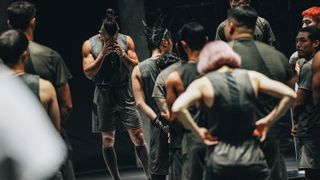 (Image credit: Netflix)
The Physical: 100 cast is made up of a variety of contestants poised to take on a series of incredibly challenging physical tasks in the Netflix survival reality show.
Physical: 100 is a Korean series inviting contestants from all walks of life to push their bodies to their absolute limits in a brutal new physical competition. As the challenges become more difficult, the contestants will be whittled down to one winner.
That one person won't just be walking away with bragging rights about their physique, though; they'll also be bagging a huge cash prize worthy 300,000,000 South Korean Won (worth roughly $250,000).
The Physical: 100 cast is packed with stars from all sorts of backgrounds including professional athletes, special forces soldiers, farmers, YouTubers and musicians... but only one of them can be crowned the winner.
We're now down the final stages of the competition; below you'll find a list of the final survivors who remain in the contests (as of episode 8) and a full list of the 100 contestants who originally entered the fray.
Physical: 100 cast - who's still in the competition?
As of the most recent episode, there are four confirmed stars who've made it into the final episode. They are:
Jo Jin-hyeong
Park Jin-yong
Kim Min-cheol
Woo Jin-yong
There's one more place that's yet to be decided as things stand, though we know that it'll be one of two contestants: Yun Sung-bin or Jung Hae-min.
They were up against Choo Sung-hoon and Ma Sun-ho in The Punishment of Sisyphus trial, though the latter two were eliminated in the penultimate episode of the series and they couldn't quite match the other two stars.
The full list of Physical: 100 contestants
Below is a complete list of all 100 stars who have signed up for Netflix's competition, along with their physical background.
Choo Sung-hoon - MMA Fighter, Judoka
Yun Sung-bin - National Team Skeleton Racer
Yang Hak-seon - Olympic Gold Medal-winning Gymnast
Hwang Ji-Hun, aka "Agent H" - YouTuber, former UDT/SEAL
Caro - CrossFitter/YouTuber
Hong Beom-seok - YouTuber, RoK former Special Forces Soldier and Firefighter
Jjang Jae "The eTool" - YouTuber, Former UDT/SEAL
Shim Eu-ddeum - YouTuber, former competitive fitness model
Kim Kang-min - Bodybuilder
Song A-reum - Bodybuilder
Cha Hyun-seung - Dancer, Model
Lee Yong-seung - Bodybuilder, YouTuber
Kim Ye-hyun - Bodybuilder, former fencer
Kang Han - National Team Bobsledder
Kim Sung-jun - Fitness model
Kim Sung-hun - Personal Trainer, fitness model
Son Hee-dong - Wrestler
Kim Ji-han - Volleyball Player
Yun Seok-hwan - National Team Swimmer
Kim Kyung-jin - Farmer, YouTuber
YOYO - Model
Nam Kyung-jin - National Team Wrestler
Kwak Myung-sik - CrossFitter
Carlos - CrossFitter
Park Jung-ho - Correctional Officer
Jang Seong-min - National Team Rugby Player
Kim Chun-ri - Bodybuilder
Kkang Mi - Sergeant first class reservist
An Da-jeong - Bodybuilder
Son Hee-chan - Ssireum Wrestler
Jang Eun-sil - National Team Wrestler
BBULKUP - Food business CEO, YouTuber, Former Bodybuilder
Ma Sun-Ho - Bodybuilder
Kang Chun-il - Pilates Instructor, Dancer
Park Hyung-geun - MMA Fighter
Jo Jin-hyeong - Car Dealer, Strongman Athlete
Miracle Nelson - Dancer, Model, Bodybuilder
Kim Ji-wook - National Team Diver
Seong Chi-hyun - Casino Dealer, Fitness Model
Yoo Sang-hoon - MMA Fighter
Joo Dong-jo - MMA Fighter
Lee Guk-young - Musical actor, Dancer, Bodybuilder
Cho Hyun-mi - Boxer
Lee Ju-hyung - Ice Hockey Player
Seo Ha-yan - CrossFit Coach
Jeong Bo-kyeong - National Team Judoka
Choi Kyu-tae - Model, Dancer
Choi Min-yong - Marathon Runner
Dustin Nippert - Baseball Player
Choi In-ho - Strongman Athlete, Personal Trainer
Florian Krapf - Fitness Model, YouTuber, TV personality
Kim Gil-hwan - Scuba Diver, YouTuber
Kim Min-cheol - Mountain Rescue Team, National Team Ice Climber
Kim Byeong-jin - National Team Taekwondo Athlete
Kim Sang-wook - MMA Fighter
Kim Eun-ji - Competitive Fitness Model, YouTuber
Kim Jeong-uk - Fitness Model, Bodybuilder
Vita Mikju - Pole Sports Athlete
Park Seon-kwan - National Team Swimmer
Park Jong-hyeok - Fitness Model, Coach
Park Jin-yong - National Team Luger
Bang Seong-hyeok - Personal Trainer
Bang Ji-hoon - Bodybuilder
Tarzan - YouTuber
Seol Ki-kwan - National Team Bodybuilder
Shin Dong-guk - Firefighter, MMA Fighter, Former RoK Special Forces
Shin Bo-mi-rae - Boxer
Shin Se-gae - Stuntman
DBO - Rapper
Austin Kang - Chef, TV Personality
Woo Jin-yong - CrossFitter, Former Snowboarder & Coach
Yu Ga-ram - Inline Skater
Youn Jun-hyeoup - Model
Lee Da-hyeon - Ssireum Wrestler
Lee Dae-won - Trot Singer, MMA Fighter
Lee So-young - Fitness Model
Lee Jun-myeong - Calisthenics Coach
Miho - Personal Trainer
Elaine - Actress, TV Personality
Jeon Min-seok - Korean Coast Guard
Jeon Young - Movie Choreographer
Jeong Han-saem - Musical Actor, Model
Jung Hae-min - Cyclist
Ovan - Singer-songwriter
Cho Jung-myung - National Team Luger
Chae Wan-ki - Jiu-Jitsu Athlete
Ha Je-yong - Powerlifting Athlete, Former Arm Wrestler
Hwang Bit-yeo-ul - CrossFitter
Kim Kyeong-baek - Former UDT Drill Instructor
Kim Da-young - Stuntwoman
Kim Sik - National Team Skeleton Coach, Former Bobsledder
Lee Min-U - Chef
Lee Ye-ji - MMA Fighter
Im Jeong-yun - College Student, Fitness Model
Jo Yeon-joo - Cheerleader
Jo I-Taek - Actor
Choi Sung-hyuk - Pole Sports Athlete
Ko Da-young - Pilates Instructor
Park Ji-su - Bodybuilder, National Team Rugby Player
Park Min-ji - SSireum wrestler
The first four episodes of Physical: 100 are available to stream on Netflix right now. New episodes will be released in pairs on Tuesdays, with the finale set to air on its own on February 21.
Get the What to Watch Newsletter
The latest updates, reviews and unmissable series to watch and more!
Staff Writer at WhatToWatch.com
Martin is a Staff Writer with WhatToWatch.com, where he produces a variety of articles focused on the latest and greatest films and TV shows.
Some of his favorite shows are What We Do In The Shadows, Bridgerton, Gangs of London, The Witcher, Doctor Who, and Ghosts. When he's not watching TV or at the movies, Martin's probably still in front of a screen playing the latest video games, reading, or watching the NFL.