Snowfall season 6 episode 5 recap: Franklin gets revenge on Teddy
Plus, Jerome has had enough.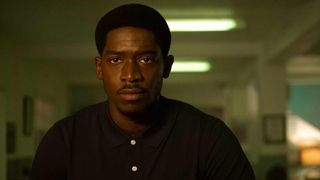 (Image credit: Ray MIcksaw/FX)
NOTE: this article contains spoilers for Snowfall season 6 episode 5, "Ebony and Ivory."
Just when it seemed Franklin (Damson Idris) couldn't get more cutthroat, he pulls off an act of revenge we didn't see coming. Following the old expression, "an eye for an eye," Franklin deals a blow to Teddy (Carter Hudson) that will certainly raise the stakes in their feud.
Besides Franklin's big play, Snowfall season 6 episode 5 sees Jerome (Amin Joseph) get fed up with the drug game, Gustavo (Sergio Peris-Mencheta) make a confession and Leon (Isaiah John) take a step backward.
Veronique and Cassandra kidnap Teddy's dad
Veronique (Devyn A. Tyler) and Cassandra (Tamara Taylor) again find themselves in the midst of a scheme. They start out their plot doing some late-night surveillance of a building in Kansas City.
As they wait, Cassandra asks her daughter if she has an exit plan with Franklin. Veronique protests needing one, but her mother reminds Veronique to always have an exit strategy, especially dating a man like Franklin. As Cassandra puts it, "They [men like Franklin] spend their whole life taking, trying to make themselves whole no matter what the cost." Their conversation ends as they spot Teddy's dad Colonel McDonald (John Diehl).
The following day, the mother and daughter duo shows up at the assisted living home where Colonel McDonald is staying. Under the guise that Veronique is admitting Casandra into the facility, Veronique is able to distract the staff while Cassandra befriends Teddy's dad.
As Casandra and the colonel get acquainted, he shares that he has lung cancer and regrets not fixing things with Teddy before things between them got so bad. After pivoting the conversation about the conditions of the assisted living facility, Cassandra suggests they take Veronique's car and run away. He jumps at the opportunity, and the two drive off.
Kane demands intel on Jerome and Louie
While speaking to Kane (DeVaughn Nixon) in his new hideout, Franklin looks noticeably uncomfortable as the gang leader rants about Louie (Angela Lewis) and Jerome ordering a hit on his life. Kane demands Franklin help him put an end to the opposing Saints once and for all.
However, Franklin is pretty consumed with the plan involving Teddy's dad and wants to join Veronique as soon as possible. Kane makes it clear he isn't rushing to go anywhere until Franklin comes up with an idea. That's when the kingpin sees an image on TV of a horse and a light bulb goes off in his mind.
By the second half of the episode, Kane's men pull up to a horse stable that Louie visits a few times a week. It's decided these men will monitor the property and keep a lookout for Franklin's aunt, which seems rather ominous for her future.
Leon is back in charge
Wanda (Gail Bean) tends to the bruises Leon received during his fight with Deon (Quincy Chad) when they are interrupted by a knock on the door. It's Einstien (Kamron Alexander) and some of Deon's followers.
They informs Leon his nemesis has ran off to his girlfriend's place, taking all the crew's money and drugs with him. They say they're willing to follow Leon, but they need to know his next plan of action, as they're hesitant because the last time he was in charge he left and went to Africa. Plus, it's no secret he's not the same person he once was.
Leon then bluntly asks who else wants to be in charge, and the men reply there are many people wanting to take over that are worse than Deon. With that information, Leon takes his gun, walks outside into the courtyard of the neighborhood and loudly announces that Deon is no longer in charge, and if anyone wants to make money in the projects, they need to come through Leon. His proclamation leaves Wanda in complete shock.
Jerome wants out
Disgraced former officer Buckley (Brandon Jay McLaren) tells Jerome and Louie that Kane survived the hit. Louie and Jerome can't understand how that's possible, until Buckley elaborates Kane was aided by Franklin. While the news that Franklin was in the house with Kane doesn't bother Louie, Jerome looks noticeably concerned.
Later, Deon meets with Jerome and demands he helps him strike back at Leon. Jerome doesn't want to get involved, but Deon recalls that not so long ago he helped Jerome pull a scheme on Franklin to get his drugs back. The older Saint is still not interested and says "OGs" like him are a dying breed, and the younger guys in the streets hustling lack a moral code and respect. Deon counters that Jerome may be a dying breed, but not him.
Once Deon leaves, Louie asks her husband if he's okay, to which Jerome responds, "I'm out." He walks away from his wife, and by the end of the episode, he tosses the pager in the trash.
Gustavo confesses to Teddy
Gustavo still has a side to choose in the three-way war of covert operations. He goes to Xiamara (Joey Marie Urbina) and finally tells her about his working for the DEA as an informant; she's not thrilled. He then shares the DEA plans to raid Teddy's warehouse the next day, which would force him to go into witness protection. Xiamara is adamant she and the boys won't join him, which Gustavo knows. Instead, he wants her to pack her bags and get out of town immediately. But Xiamara won't run either. She wants a normal life for her and the boys, and demands that Gustavo make that happen.
The next day, Gustavo meets with Teddy and tells him he was approached by Rubén (Alejandro Edda). Though he already knew, Teddy is appreciative of the confession. He tells Gustavo not to worry about anything, as he moved the drugs from the warehouse in case the KGB were onto him. Gustavo is surprised to know that Teddy was aware he was approached by Rubén.
Gustavo later calls the DEA to warn them not to invade the warehouse as Teddy moved the drugs. At this point, Gustavo's true allegiance is questionable.
Teddy breaks into Rubén's apartment
Speaking of the KGB operative, Teddy uses his CIA contacts to investigate Rubén. Teddy's managed to locate Rubén's apartment. Once the former sees the latter leave his home, Teddy breaks in.
As Teddy carefully looks around, he doesn't find anything that would signal how much the KGB knows about the CIA's operation. In fact, the covert mission is practically a bust until he finds a secret shelving unit that contains a number of magazines that hint Rubén is gay.
Franklin kills Teddy's father
Back in Kansas City, Veronique picks up Franklin from the airport and takes him to where Cassandra has been keeping Colonel McDonald distracted. After Franklin exchanges some intense pleasantries with the older gent, he then uses a phone to page Teddy.
When Teddy calls Franklin back, the young Saint lets it be known that he's with Colonel McDonald, which initially doesn't phase Teddy. Then Franklin demands Teddy return the money he stole, but the latter is insistent he can't just return the millions and stresses Franklin not try to take on him and the CIA.
That's when Franklin boldly stabs Colonel McDonald in the neck while Teddy is on the phone. Teddy is in disbelief as he hears his dad gurgle blood and die, and Veronique and Cassandra look on in horror, shocked Franklin would take things this far. The scene concludes with Franklin ushering his girlfriend and her mother out of the building why he sets it on fire, leaving Teddy's dad to burn.
Snowfall season 6 continues to air on Wednesdays on FX. Episodes become available to stream the next day on Hulu.
Get the What to Watch Newsletter
The latest updates, reviews and unmissable series to watch and more!
Terrell Smith has a diverse writing background having penned material for a wide array of clients including the federal government and Bravo television personalities. When he's not writing as Terrell, he's writing under his pseudonym Tavion Scott, creating scripts for his audio drama podcasts. Terrell is a huge fan of great storytelling when it comes to television and film. Some of his favorite shows include The Crown, WandaVision, Abbot Elementary and Godfather of Harlem. And a fun fact is he's completely dialed into the TLC 90 Day Fiancé universe.