Snowfall season 6 release date, trailer, plot and everything we know about the hit drama
Franklin Saint is making one more attempt to end up on top in the show's final season.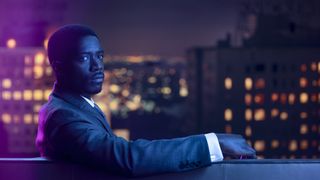 (Image credit: FX)
Over the course of five seasons, Snowfall has managed to amass quite a loyal fanbase. The crime drama has shined a light on the 1980s cocaine epidemic in the US (specifically in Los Angeles) through the lens of fictional characters like Franklin Saint (Damson Idris), and viewers have been simply captivated. Between all the betrayals, close calls, murders and surprise twists, it's no wonder the series has become FX's highest-rated show.
So what can fans expect from the drama in its final season? Here's everything we know about Snowfall season 6.
Snowfall season 6 release date
Snowfall season 6 premieres on FX with the first two episodes on Wednesday, February 22, beginning at 10 pm ET/PT. The episodes become available to stream the next day over on Hulu.
There is no word yet as to when the new season will be released in the UK, but once that information becomes available to us, we'll pass along the update.
Snowfall season 6 trailer
FX released an additional teaser titled "It Ends Here" on January 24. What lies ahead for Franklin in his future showdowns?
FX has officially released the season 6 trailer, and it looks phenomenal. Franklin is back and trying to get what he thinks he's owed.
FX also released the following teaser.
Snowfall season 6 plot
Here is an official synopsis of what fans can expect in Snowfall's final season:
"This was how crack began. Over the course of five seasons, FX's Snowfall has chronicled how an off-the-books CIA operation contributed to the destruction rock cocaine leveled upon the vibrant community of South Central L.A.
"It's October 1986 in this sixth and final season, as civil war threatens to destroy the Saint family. Franklin (Damson Idris) is desperate, forced to rob his Aunt Louie (Angela Lewis) and Uncle Jerome (Amin Joseph) after being wiped out by former CIA officer Teddy McDonald (Carter Hudson). Meanwhile, Louie has taken over Franklin's role as Teddy's sole buyer, undercutting her nephew and creating a competing empire in the process.
"Franklin is now faced with losing everyone he loves and everything he's built, and coming through it all will mean out-maneuvering the KGB, the DEA and the CIA, as well as avoiding the LAPD's fully militarized, fully corrupt, C.R.A.S.H units.
"When everyone has their backs against the wall, who will they become in order to survive?"
Snowfall season 6 cast
Since the very beginning of the series, Damson Idris has served as the savoy hustler Franklin Saint. Now also a producer on Snowfall, Damson's list of previous acting credits include roles in Netflix's Outside the Wire, City of Tiny Lights and the critically-acclaimed show Black Mirror.
Starring as Teddy McDonald, the CIA operative determined to "do the right thing," is Carter Hudson. While Snowfall is his most notable role, he's also been seen in shows like The Wilds and A Crime to Remember.
Also featured as series regulars in the final season are Sergio Peris-Mencheta (Rambo: Last Blood), Michael Hyatt (Where the Crawdads Sing), Amin Joseph (The Royal), Angela Lewis (The Last Ship), Isaiah John (All Day and a Night), Devyn A. Tyler (Deep Water) and Alon Aboutboul (London Has Fallen).
How to watch Snowfall season 6
Snowfall is an FX Original series, and as such, it airs directly on FX. The channel is available through most cable TV subscriptions, but if you've cut the cord you can watch FX on streaming platforms like Sling TV, FuboTV, Hulu with Live TV and YouTube TV. New episodes become available to stream the day after they air on Hulu.
While we wait for official word as to when season 6 will become available in the UK, fans of the show can watch past seasons on Disney Plus.
Get the latest updates, reviews and unmissable series to watch and more!
Terrell Smith has a diverse writing background having penned material for a wide array of clients including the federal government and Bravo television personalities. When he's not writing as Terrell, he's writing under his pseudonym Tavion Scott, creating scripts for his audio drama podcasts. Terrell is a huge fan of great storytelling when it comes to television and film. Some of his favorite shows include The Crown, WandaVision, Abbot Elementary and Godfather of Harlem. And a fun fact is he's completely dialed into the TLC 90 Day Fiancé universe.
Thank you for signing up to Whattowatch. You will receive a verification email shortly.
There was a problem. Please refresh the page and try again.