Snowfall season 6 episode 4 recap: Franklin and Leon reassert their power
Plus, Gustavo is forced to pick a side.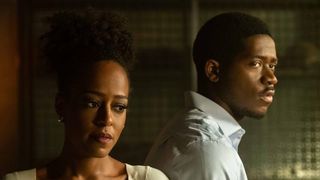 (Image credit: Ray Mickshaw/FX)
NOTE: this article contains spoilers for Snowfall season 6 episode 4, "Projects Boy."
Although it's been quite some time since he's had to roll up his sleeves and get in the kitchen, Snowfall season 6 episode 4 sees Franklin (Damson Idris) once again show some low-level lieutenants how to cook crack cocaine. As his business with Kane (DeVaughn Nixon) is not as lucrative as he envisioned, he deems it necessary.
Elsewhere, Leon (Isaiah John) has it out with Deon (Quincy Chad) over the future of the projects, while Gustavo (Sergio Peris-Mencheta) is faced with a very difficult choice.
Here's what happened.
Cassandra and Veronique search for Franklin's money
Working on locating Franklin's missing $73 million, Veronique (Devyn A. Tyler) and Cassandra (Tamara Taylor) are knee-deep in a scheme. The two have managed to locate a man named Will (Jon Root), who helped Teddy (Carter Hudson) move Franklin's stolen money.
While Cassandra meets with him under the guise that she's a potential client, her daughter is meeting with his assistant in the back of a car taking photos of stolen documents from Will's safe. Veronique convinced the assistant to bring her the documents by claiming she was the FBI investigating Will's business practices. Thankfully, the scheme works, although they nearly got caught.
Later after returning to Los Angeles, Cassandra and Veronique go over with Franklin what they found. It turns out Teddy used Will to route the millions through several accounts before the money was ultimately withdrawn by Teddy. Unfortunately for Franklin, they are unable to figure out where the money is now, which causes the kingpin to lose it. He lashes out at Cassandra, who is rightfully offended by his lack of appreciation, threatening to stop assisting him.
Veronique is able to persuade her mom to continue helping them locate the money. While alone, Veronique tells Franklin she and her mother are going to proceed with the second part of their plan without Franklin, as he wouldn't be much help.
Wanda struggles back in Los Angeles
Wanda (Gail Bean) is still trying to find her way now that she's back in the community where she fell victim to her addiction. As she walks through the projects, she sees a couple of teenage boys spraying graffiti on a woman passed out in the courtyard from an apparent drug high. Perhaps seeing herself in this woman, Wanda gets upset and shoos the boys away.
A few scenes later, Wanda then comes face to face with a gun-wielding Cissy (Michael Hyatt). As the latter enters her home, she hears someone, which prompts her to go into her bag to pull out a gun. Before Franklin's mom shoots, Wanda appears carrying a box and startles Cissy.
Once the two shake off the shock, the ladies sit down and Wanda confesses how difficult it is to stay sober back in her old surroundings. Cissy empathizes with her plight given her husband's journey of sobriety. She encourages Wanda to stay busy and volunteer at the homeless shelter, which she ultimately winds up doing.
Franklin makes a bold move with dire consequences
Having realized he has more money going out than coming in, Franklin determines something is wrong with Kane's distribution operation. To remedy the situation, Franklin decides to go into the lion's den to talk to his partner in crime.
During their conversation, Franklin suggests the problem stems from the cook house and the making of the product. Once he's able to get past his feelings of offense and resentment, Kane agrees to let Franklin go into his cook house to see what's going on.
As Franklin surveys Kane's "production center," he quickly kicks out the two women lounging around the living room and points out that the "work environment" is filthy. Additionally, he informs Kane's lieutenant, Todd (Aaron Bledsoe), and his associate that they are to each work 12-hour days around the clock to cook up the crack.
Todd becomes angered by Franklin's demands and is adamant he won't listen to Franklin. In response, Franklin hastily takes Todd's face and shoves it onto a hot kitchen stovetop, burning him.
When Todd complains to Kane about the incident, Kane backs Franklin and his methods. Feeling betrayed by his longtime friend and employer, the lieutenant runs directly to Louie (Angela Lewis) and Jerome (Amin Joseph) and offers them the whereabouts of Kane.
Despite siding with Franklin in front of Todd, when Kane speaks one on one with Franklin in his living room he's very upset. In fact, he stresses to the young Saint he is to never touch a person that works for him again. As the men go back and forth, they are suddenly caught in a drive-by shooting. Kane and Franklin are frantically able to fight their way out of the house into a getaway car, but not before Franklin manages to shoot and unmask one of the gunmen, who happens to be Todd.
Leon gets fed up with Deon
Leon is feeling pretty lost. He wanted to come back to LA to help his community but sees Quincy as an obstacle in his way. For example, Leon encourages Einstein (Kamron Alexander) to apply to college, even helping the high schooler fill out applications, but Deon counters that sage advice by telling Einstein he doesn't need to go to school because he knows more than his would-be professors and is already making money.
Then there is the whole lighting situation around the playground in the projects. Deon has shot out the street lights, claiming it helps protect dealers from being arrested by police. Leon tries to convince Deon the playground not having lights isn't good for the neighborhood, but Deon doesn't care. That's when Leon takes matters into his own hands and pays for the lights to be replaced.
Sadly, Deon later shoots out the newly repaired lights, which sets off Leon's temper. Leon walks right up to Deon looking for a fight and gets one. The two men trade blows, but it's Leon who emerges victorious, leaving his rival unconscious on the ground.
Gustavo is stuck in the middle of the CIA, DEA and KGB
After talking to Parissa (Tiffany Lonsdale) about how the KGB is aware of the CIA's mission, Teddy goes to tell Gustavo. With the information, Gustavo departs from the CIA operative, but Teddy looks at him with a hint of suspicion as he does.
At home, Gustavo gets into a fight with Xiamara (Joey Marie Urbina) about his work problems, then winds up at a local bar where he's approached by Rubén (Alejandro Edda). The KGB operative wastes no time in telling Gustavo he wants his assistance in taking Teddy and his employers down. Rubén offers him money and a set of new identities for him and his family if Gustavo helps with the mission. This leaves Gustavo with a lot to think about, now having to pledge allegiance to one of three secret organizations.
Unfortunately for the former wrestler, he doesn't have much time to decide what he will do next because Teddy spots him and Rubén leaving the bar.
Snowfall season 6 continues to air on Wednesdays on FX. Episodes become available to stream the next day on Hulu.
More on Snowfall
Get the What to Watch Newsletter
The latest updates, reviews and unmissable series to watch and more!
Terrell Smith has a diverse writing background having penned material for a wide array of clients including the federal government and Bravo television personalities. When he's not writing as Terrell, he's writing under his pseudonym Tavion Scott, creating scripts for his audio drama podcasts. Terrell is a huge fan of great storytelling when it comes to television and film. Some of his favorite shows include The Crown, WandaVision, Abbot Elementary and Godfather of Harlem. And a fun fact is he's completely dialed into the TLC 90 Day Fiancé universe.