Snowfall season 6 episode 3 recap: a new Leon is back from Ghana
Leon returns to pure chaos.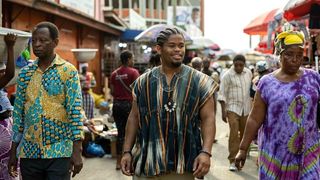 (Image credit: Joe Alblas/FX)
NOTE: this article contains spoilers for Snowfall season 6 episode 3, "Door of No Return."
As Snowfall season 6 has gotten underway with episode 1 and episode 2, one thing has become abundantly clear: the Saint family is in shambles. In episode 3, the once close-knit family is at each other's throats, which Leon (Isaiah John) is baffled to hear as he finally returns to Los Angeles.
Leon and Wanda get married in Ghana
The episode opens up with Leon walking the streets of Accra, Ghana, searching for Wanda (Gail Bean). He appears happier than ever, and when he does locate the love of his life, she's shopping in the local market. After the two exchange some affection, Leon looks up at a billboard with a quote from Ghanaian president Jerry Rawlings: "The errors of the past must be corrected in order to reestablish the confidence of our people in a secure future."
That remark weighs heavily on Leon as he is contemplating returning to LA. Wanda knows this and makes the point there is nothing for her to go back to in the US. She feels "free" and seen in Ghana, unlike in the States. Leon agrees with her appreciation for the African nation and promises to consider staying in the country.
Later, Leon and Wanda tour a former slave castle where Africans were held and sold. There it dawns on the former dealer that some Africans helped to sell and destroy their own people, which he likens to him poisoning his community with crack cocaine. This pushes him to return to LA to see if he can fix things.
Again, Wanda protests going back. However, Leon is able to convince her to go with him after marrying her in a beach ceremony.
Franklin, Louie and Jerome's war has boiled over
When Leon and Wanda arrive back in LA, their first stop is the projects. As Einstein (Kamron Alexander) gives the newlyweds a hand with their bags, he gives them some updates on what's been going on with Franklin (Damson Idris), Louie (Angela Lewis) and Jerome (Amin Joseph).
Leon can't believe Franklin robbed his aunt and uncle and his uncle hit back at Franklin. Then Einstein explains things only got worse from there.
For starters, while walking out of a swanky hotel, Jerome and Louie are caught in a drive-by shooting, but both escape with their lives. In retaliation, a group of armed men shoots up Franklin's real estate office. Returning the "favor," Franklin or Kane (DeVaughn Nixon), it's never made clear who is responsible, shoots up Louie and Jerome's club.
Speaking of Kane, Einstein shares that someone attached to Kane went to a barbershop and killed Deon's (Quincy Chad) cousin. Retaliating, Deon shot some of Kane's men as they were getting their car washed. That is followed up with Franklin attempting to take out Deon as the latter was sitting on a public toilet (the plan was only foiled due to cops walking in the restroom).
All this proves to be just too unbelievable for Leon and Wanda. She questions why the couple returned to the city to face this mess.
Teddy and Gustavo make a major discovery in Costa Rica
Gustavo (Sergio Peris-Mencheta) is still trying to operate business as usual while he makes a drug and cash exchange with Louie. Unfortunately for Louie, she's unaware that his new employer, the DEA, is taking photos of them from a distant location. (Funny enough, when Gustavo meets with the DEA later in the episode, KBG agent Ruben takes pictures of that conversation.)
The former wrestler's next stop is to see Teddy (Carter Hudson), who informs him they must head to Costa Rica to see who has been compromising the gun shipments aiding the Contras. Gustavo isn't thrilled with the notion of traveling out of the country with Teddy, but winds up on the plane.
Once in Costa Rica, Teddy, with Gustavo serving as an interpreter, explains to some local allies that their mission is to ambush those sabotaging the gun shipments and get as much information from them as possible to see who they are working for.
On the day, of the attack, Teddy, Gustavo and crew manage to kill every member of the opposing force, which seems like a failed mission initially as they didn't get any intel. Then on the flight home, Teddy goes through some of the items taken off the dead bodies and finds a screw with a secret message hidden inside. He's unable to read what it says, but is absolutely certain that the Russians are behind all the recent hiccups with the gun deals.
Leon learns peace is impossible
With an understanding of what's been going on while he's been gone, Leon tries to meet with the major players to see if there is some way to make peace. His first stop is Deon. The latter makes a point to stake his claim on the territory Leon left him and offers him a job. Leon declines the offer. Deon insists he has no issues with him, but warns Leon to stay out of the neighborhood war currently going on.
Next up are Louie and Jerome. Leon shows up at their nightclub with a gift from Ghana, but the couple isn't receptive to the visit or the present. Jerome is adamant there will be no peace between him and his nephew and that Leon shouldn't care what's going on with the Saints because he's not actually family. That comment serves as a jab, and judging by Leon's face, hurt. Jerome adds insult to injury by rudely telling Leon to leave.
Saving his closest relationship for last, Leon's final stop is visiting Franklin at his home. Franklin's house is a bit of a mess, as Louie had some police offers search through the property and destroy things in the process. Stepping over broken glass to find a seat to eat the burgers that Leon bought for each of them, the two recap Leon's time in Africa.
As the episode ends, Franklin advises Leon that if he's going to be in LA he has to pick a side in the ongoing feud. If he doesn't want to choose, Franklin insists he takes his wife and go back to Ghana.
Snowfall season 6 continues to air on Wednesdays on FX. Episodes become available to stream the next day on Hulu.
Get the What to Watch Newsletter
The latest updates, reviews and unmissable series to watch and more!
Terrell Smith has a diverse writing background having penned material for a wide array of clients including the federal government and Bravo television personalities. When he's not writing as Terrell, he's writing under his pseudonym Tavion Scott, creating scripts for his audio drama podcasts. Terrell is a huge fan of great storytelling when it comes to television and film. Some of his favorite shows include The Crown, WandaVision, Abbot Elementary and Godfather of Harlem. And a fun fact is he's completely dialed into the TLC 90 Day Fiancé universe.