Snowfall season 6 episode 2 recap: a failed family reunion
Snowfall season 6 episode 2 sees Cissy try to reconcile the Saints.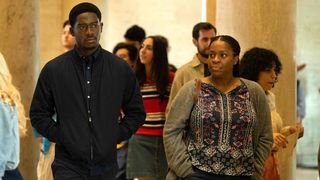 (Image credit: Ray Mickshaw/FX)
NOTE: this article contains spoilers for Snowfall season 6 episode 2, "The Sit Down."
After an explosive start in Snowfall season 6 episode 1, the second episode sees Cissy (Michael Hyatt) trying to strike a truce between her brother and son, but her plan to take down Teddy (Carter Hudson) may have hit a snag when her new KBG partner Rubén (Alejandro Edda) is recognized by another main player in this fictional drug-fueled world.
Here's what happened.
How did Parissa escape Rubén?
At the start of the episode, viewers finally see how Parissa (Tiffany Lonsdale) managed to escape Rubén in the season 5 finale. Apparently, she outruns him and hops over a fence. Unfortunately, in the process of landing, she injures herself. The following morning, she's pulled over by the police. They take a look at her injuries and see she's a bit incoherent, and they take her to lockup. That's where Teddy comes to rescue her.
While recovering at home, Teddy asks if Parissa got a good look at the man who chased her. It turns out she did and she's able to work with a sketch artist to come up with a facial composite drawing of Rubén.
Franklin meets with Rubén
Franklin (Damson Idris) and Cissy arrive at a museum that his mother used to take him to as a kid, and they meet with Rubén. After asking to speak to Franklin alone, Cissy leaves the two men to talk. As they walk through the museum, Franklin lets it be known that he no longer has a working relationship with Teddy and that the CIA contractor is now dealing with Louie and Jerome. While this information is not what Rubén wanted to hear, he's still intrigued.
Franklin has some difficult decisions to make
Having already decided to work with the KGB to take down Teddy, the next big decision on Franklin's plate is whether to continue working with Kane (DeVaughn Nixon) to exact revenge on Louie and Jerome. Kane is now awake in the hospital and adamant about taking out the people who attempted to kill him. He tells Franklin he wants as much information on his aunt, uncle and ex-cop Beau Buckley (Brandon Jay McLaren) as possible. Kane senses Franklin's hesitation and makes a not-so-veiled threat, either Franklin helps him or he's an enemy. Considering how much Franklin loves his uncle, his hesitation is understandable.
Another decision on Franklin's plate is whether or not to work with Veronique's (Devyn A. Tyler) mother (Tamara Taylor). Veronique sets up a meeting between her boyfriend and her mom.
The matriarch tells Franklin she can find his millions for a percentage of the money. She explains that whoever stole his money must have had a look-alike play Franklin with the banks in order to move the funds. She promises to go to Panama to find this doppelganger. If she proves to be successful, she wants 10% of the $73 million and wants him to encourage a relationship between her and her daughter and grandchild. Franklin gives her the green light.
Louie and Jerome do damage control
Louie (Angela Lewis) and Jerome (Amin Joseph) are still trying to get back to business after their nephew robbed them. When the newlyweds meet with a pair of out-of-town dealers, they have to reassure them they'll have product to give them. While the couple doesn't have the drugs yet, Louie and Jerome promise the dealers they'll have it before they have to leave town (which they may if Teddy is a man of his word).
Next, Louie and Jerome talk with Skully (De'aundre Bonds). A calmer Skully advises Louie and Jerome to fix things with Kane, as the word is out they tried to kill him. Louie runs down the list of people who knew about the hit and correctly figures Franklin is the one that told Kane.
Skully emphasizes Louie and Jerome patch things up with not just with Kane, but with Franklin before "karma" wrecks their life. Skully then gives the pair a paper crane and tells them he'll be with them in spirit. As Louie and Jerome leave, the camera pans in on Louie dropping the crane, which feels very ominous about things to come in her future.
Oso recognizes Rubén
Teddy meets up with Oso (Sergio Peris-Mencheta) and shows him a sketch of Rubén, hoping Oso knows who the man is. At first glance, Oso doesn't recognize him. However, later Oso sees a picture on his fridge from Louie and Jerome's wedding and notices Rubén without the mustache. Instead of taking this revelation to Teddy, he first goes to see Franklin.
In a nod to how they met, Franklin and Oso find themselves talking at a wrestling match. Before Oso broaches the topic of Rubén, he apologizes for what Teddy did to Franklin and for not being able to help him. Franklin isn't overly receptive to the apology, but that doesn't stop Oso from asking who the man in the wedding photo is.
The young Saint isn't exactly forthcoming with Rubén's identity, dangling that information in exchange for Oso helping Franklin get to Teddy (plus, Franklin offers $10 million). Oso is hesitant, but says he will help once Franklin gives the identity. Franklin wants Teddy first. The former wrestler looks inclined to help Franklin.
Franklin and Jerome don't see eye to eye
Cissy has been urging Franklin to make amends with his aunt and uncle. She even goes to sit with Jerome at a dinner to see how they can heal the family. After listening to his sister, Jerome is open to talking to Franklin, and the two Saint men agree to meet.
At their sitdown, Jerome gives a heartfelt speech about how he stepped in to be a father figure to Franklin when his dad battled addiction, and that raising Franklin may be the greatest feeling of his life. However, he immediately follows that up by questioning how Franklin has become the person that sits before him today.
Franklin says Jerome was just a weed peddler, whereas Franklin was trying to give him money and a legacy. Things go left as Franklin claims his uncle got "played by the trick" he married. Jerome doesn't take kindly to his nephew insulting his wife and hits him in the face. As Franklin digs into his insults, Jerome slaps him across the face again until Franklin stands up and draws a gun on him.
Jerome demands Franklin shoot him and "end this s**t right now," but Franklin doesn't pull the trigger. Instead, the kingpin walks away. Both men end the episode emotionally distraught over what occurred.
Snowfall season 6 continues to air on Wednesdays on FX. Episodes become available to stream the next day on Hulu.
Get the What to Watch Newsletter
The latest updates, reviews and unmissable series to watch and more!
Terrell Smith has a diverse writing background having penned material for a wide array of clients including the federal government and Bravo television personalities. When he's not writing as Terrell, he's writing under his pseudonym Tavion Scott, creating scripts for his audio drama podcasts. Terrell is a huge fan of great storytelling when it comes to television and film. Some of his favorite shows include The Crown, WandaVision, Abbot Elementary and Godfather of Harlem. And a fun fact is he's completely dialed into the TLC 90 Day Fiancé universe.