Stranger Things season 4 — why everyone is talking about Chapter 4: Dear Billy
Stranger Things season 4 audiences are sharing their love for Sadie Sink's performance. *WARNING — spoilers for season four below*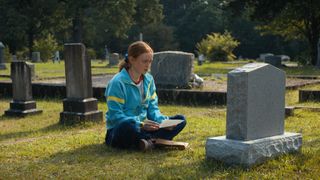 (Image credit: Netflix)
The wait is finally over and Volume 1 of Stranger Things season 4 is now streaming on Netflix.
The series stars Millie Bobby Brown, Finn Wolfhard, Gaten Matarazzo, Caleb McLaughlin, Noah Schnapp, Sadie Sink, Natalia Dyer, Charlie Heaton, Joe Keery, Maya Hawke, Priah Ferguson, Winona Ryder, and David Harbour. Volume 2 will include the final 2 episodes of the season and be released on July 1.
While this first volume included a total of seven episodes, there is one that audiences can't stop talking about called, "Chapter 4: Dear Billy."
The episode puts the focus on Max Mayfield, portrayed by Sink. We see the character seemingly accept her fate after being cursed until the very end when she uses her loved ones as an anchor to escape from Vecna's grasp.
The end sequence will completely take your breath away and will forever be remembered as one of the best moments in the show. From the visuals to the use of Max's favorite song, it's impossible not to feel completely immersed.
"Dear Billy is genuinely the best episode in the entirety of Stranger Things, I was on the edge of my seat the whole time. The last 5 minutes? Masterpiece. The incorporation of running up that hill? Incredible. Sadie sSnk? Emmy award-worthy," one viewer wrote...
A tweet read, "Max has been alone in life for so long and at the end of Dear Billy she finally realized she's not and that she does have a family and that is everything to me."
Fans immediately took to social media to praise Sadie Sink for her incredible work in the episode and season overall.
"Sadie Sink's performance was mind-blowing this season. Like Dear Billy really got the best out of her acting... jaw on the floor watching every second of her scenes oh my god," someone else commented...
"Dear Billy" easily took the title of Volume 1's best episode, some even saying it's one of the best in the entire series.
"Dear Billy is the stand-out episode of season 4. it was phenomenal I loved every second of it," one fan posted...
The episode also included some beautiful content between Max and Lucas, which audiences loved.
"Lucas being Max's emotional tether…I definitely teared up," said another tweet...
You can binge watch all episodes of Stranger Things seasons 1-3 and Vol. 1 of season 4 now on Netflix.
Get the What to Watch Newsletter
The latest updates, reviews and unmissable series to watch and more!
Sophia Soto has a passion for all things entertainment. She is a member of The Hollywood Creative Alliance and currently writes for The Nerds of Color. You can also see her work on What To Watch, Remezcla, Looper, Den of Geek, Young Hollywood and more. Some of her favorite shows include Grey's Anatomy, The Goldbergs, Riverdale and Roswell, New Mexico. She is a complete Marvel nerd as well!