The Blacklist season 9 recap: who betrayed Red?
Blacklist season 9 was about trying to move on from Elizabeth's death, but also get revenge for who betrayed them.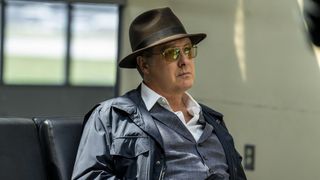 (Image credit: Zach Dilgard/NBC)
NOTE: this post contains spoilers for The Blacklist.
After 10 years and more than 200 episodes, The Blacklist season 10 is going to mark the end of the James Spader-led NBC crime drama. But after all the twists and turns of the show's long run, you may need a quick refresher on how we got to the events of season 10, which is why we're doing this The Blacklist season 9 recap.
The Blacklist season 9 opens two years after the murder of Elizabeth Keen (Megan Boone) and deals with the aftermath of her death, as each member of the task force grapples with her murder in their own way. But the season still provided a number of thrilling moments that are going to have ripple effects into season 10.
Let's look back at the key things to remember from The Blacklist season 9.
Recovering from Elizabeth Keen's murder
After Elizabeth's murder, Reddington (James Spader) goes into seclusion for two years. He credits the sabbatical with saving his sanity and his life as he forms emotional connections with two sisters. However, even after all that he is very reluctant to return to working with the task force.
Ressler (Deigo Klattenhoff) has what seems to be a harder time than most grieving Elizabeth's death. Their budding romance at the time of her murder probably made him feel her loss more acutely. He leaves the bureau and relapses into drug addiction. The reconstitution of the task force provides the medium for him to become sober again and face the grieving process.
Alina (Laura Sohn) got married after leaving the task force, focusing on training new agents instead of field work as a concession to her husband. She also briefly worked with an assassin group, which she almost paid for with her husband's life. She's forced to confront the issues in her marriage and decides to take some time off to focus on her health and to have her baby.
Much to the surprise of Reddington and the task force, Dembe (Hisham Tawfiq) becomes an FBI agent with the assistance of Harold. His unwavering integrity makes him a good fit, but he finds himself constantly having to prove his loyalty lies with law enforcement and not Reddington and his world. His actions as Reddington's bodyguard still come back to haunt him, almost costing him his daughter's life. Dembe also grapples with the guilt of not being able to protect Elizabeth when she needed him most, as it was one of his prime responsibilities.
Aram (Amir Arison) is probably the one team member who best dealt with Elizabeth's death. He still struggled with deep-seated issues of inadequacy stemming from not being able to prevent his former fiancee from getting hurt. Through therapy, he discovers that he's also harboring feelings of guilt that his inadequacies led to the harm of many team members.
Harold (Harry Lennix) is named guardian of Agnes, Elizabeth's daughter, and channels all his energies into caring for and protecting her. He believes this is the best way to honor Elizabeth's memory.
Who killed Elizabeth Keen?
The task force moves through a list of Blacklisters, names provided by Reddington, following leads to Elizabeth's killer. Towards the end of season 9, Reddington discovers his trusted employee and lawyer, Marvin Gerard (Fisher Stevens), is responsible for orchestrating Elizabeth's murder. This realization unleashes a deep sense of betrayal and dark rage in Reddington, as he becomes consumed with exacting revenge. The task force however wants justice for Elizabeth's murder and goes into overdrive trying to prevent Reddington from killing Marvin.
Does the DOJ still need the task force/Raymond Reddington?
The love/hate relationship between the DOJ and Reddington survives because it is symbiotic. DOJ is cognizant of Reddington's continuous criminal activity and is always open for alternatives to help find elusive criminals, but have never found one as connected as Reddington. Until his trusted advisor Marvin tries to take his place. Reddington ultimately intervenes, botching Marvin's plan while saving Harold's career.
Friends, betrayal and the aftermath
The value of friends and the deadly impact of betrayal is a recurring theme in season 9. Appreciating friendships and learning to trust that they'll have your back is a learned skill.
Donald is forced to trust that Alina will keep his drug addiction secret from the task force, even while she doesn't trust enough to share her medical issues with the team and the full scope of her job with her husband.
Harold is being framed for murder and doesn't trust confiding in the team. This subsequently makes him at risk of losing his job, being charged with multiple crimes and going to jail.
Reddington is forced to accept how emotionally attached he is to the two sisters, being forced to choose between a life with them and avenging Elizabeth's death. In the end, the entire task force and Reddington learn to accept Elizabeth's death, lean on each other and live their best lives.
However, the ultimate betrayal of the season was discovering that Marvin, Reddington's trusted advisor, was responsible for Elizabeth's murder. Ultimately, Marvin dies by suicide, but he betrays Reddington one last time by letting the criminal world know that Red is an FBI informant.
In season 10, viewers are looking to see how Reddington navigates a new world in which he has been outed as a friend of the FBI.
The Blacklist season 10 premieres on Sunday, February 26, at 10 pm ET/PT on NBC, then streaming on Peacock the next day. You can also stream The Blacklist season 9 on Peacock.
Get the What to Watch Newsletter
The latest updates, reviews and unmissable series to watch and more!
Taayoo Murray is a New York City transplant who is a full-time boy mom, freelance writer, and teen goal-setting coach. She's also a published author of the interactive workbook, "Making Me Happen (opens in new tab)." She has been published in Health, Business Insider, HuffPost Wellness, Livestrong, Yahoo Life and others. When not working, Taayoo enjoys hanging with her three best friends and drinking white wine.