Who will be the next Superman? Who's in the running?
Who's the next Superman? Who will pick up the legendary cape?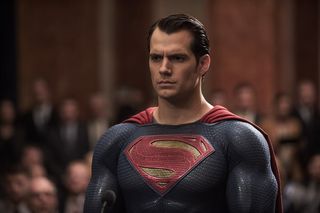 (Image credit: © 2022 Warner Bros. Entertainment Inc. All rights reserved.)
The next Superman race is officially on: after playing Superman in movies like Man of Steel and Justice League, Henry Cavill is moving on from the legendary superhero, and won't be playing him in any more movies.
Cavill confirmed as much via Instagram, after a meeting with newly-appointed DC guru (and famous director) James Gunn, so his cameo in Black Adam will be his last appearance.
Being a huge actor, Henry Cavill will surely be moving on to other big projects (he's already tapped to star in one based on the Warhammer franchise), but that leaves the other elephant in the room: who will play Superman going forward?
While Henry Cavill's news is still rather recent, there haven't been many rumors about who's tapped to replace him just yet, but we do have some pieces of information that could point us in the right direction.
New Superman movie: a younger actor?
James Gunn is writing the next Superman movie himself, and he's confirmed that it'll focus on a younger Superman / Clark Kent (Superman's alter ego).
Among those on the slate is Superman. In the initial stages, our story will be focusing on an earlier part of Superman's life, so the character will not be played by Henry Cavill.December 15, 2022
Gunn also confirmed that it's not an origin story, something we've seen on many occasions already, though that'd fit with Gunn's reported plans to reboot the DC cinematic universe.
Fittingly, the actor who plays Superman would therefore need to be younger — Cavill is nearly 40, so an actor who is (or is the playing age) around mid-20s would fit with the brief.
New Superman fan casting
Before any casting rumors for Superman come out, fans have been vocal about who they want to play the role next. And by far and away, the most requested actor is David Corenswet.
Corenswet, known for roles in The Politician, We Own This City and Pearl, isn't new to Superman rumors, with fans pointing out his appearance (which is pretty similar to Cavill) as fitting for Clark Kent.
A few other fan casts have been put out, but so far Corenswet is the only one with any major traction.
New Superman speculation
Without anything solid (or remotely solid) to go on, we can only speculate on who might be a good pick for playing a younger superman.
Adam DiMarco
Adam DiMarco has been in a few TV shows like The Order and The Magicians but he's currently seeing a surge in popularity thanks to a role in The White Lotus, HBO's newest hit show.
While DiMarco is actually older than Henry Cavill was when he put on the cape, he has a youthful look, making him well-suited to a younger origin-story version of Superman.
Caleb McLaughlin
If James Gunn does want a younger actor for his new Superman, he'll likely be looking to the best show for new up-and-coming actors Stranger Things, and the best pick from its core cast is likely Caleb McLaughlin, who plays Lucas.
You may have also seen McLaughlin in Concrete Cowboy or Dora and the Lost City of Gold, and the actor has good range for someone who became famous at such a young age.
Plus, if Gunn is looking for more interesting and diverse casting for a new interpretation of Superman, McLaughlin would be another good pick.
Paul Mescal
Paul Mescal has gone from hit to hit in the last few years, with highlights including Normal People and Aftersun, and he's also young enough to be suitable for as a younger Superman.
Let's not forget that DC has to aversion to British actors as its Superman, with Henry Cavill being English, so that factor in Mescal's identity is no issue.
Get the latest updates, reviews and unmissable series to watch and more!
Streaming and Ecommerce Writer
Tom is the streaming and ecommerce writer at What to Watch, covering streaming services in the US and UK. His goal is to help you navigate the busy and confusing online video market, to help you find the TV, movies and sports that you're looking for without having to spend too much money.
Thank you for signing up to Whattowatch. You will receive a verification email shortly.
There was a problem. Please refresh the page and try again.