Adele Silva on joining Hollyoaks: 'I'm a big fan - I watched it when Jambo was in it!'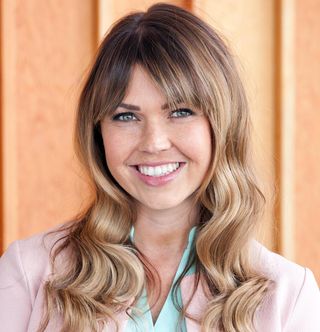 Emmerdale ex Adele Silva tells Soaplife about her new role in Hollyoaks as Angela, a woman who wants to adopt Peri and Tom's baby...
A familiar face has joined Hollyoaks to play foster mum Angela Brown. Leela [Kirsty-Leigh Porter (opens in new tab)] is her cousin and she's played by Adele Silva, who was Kelly Windsor in Emmerdale. Angela shows up with her husband, Mark, played by Ben Faulks (opens in new tab). "Leela [Peri's mum] calls Angela," says Adele (opens in new tab). "Angela can't have kids and sees Tom and Peri's baby as one she could adopt."
Tell us a bit about Angela?
"Angela's a nice lady, who's happily married and always seems to be smiling… although we'll have to see how long that lasts! She's a part-time teacher and she's just opened a cup cake shop. She seems like Wonder Woman!"
What does Angela think when she meets Peri and Tom?
"Peri [Ruby O'Donnell (opens in new tab)] is really keen to have her baby adopted and she thinks Tom [Ellis Hollins (opens in new tab)] is, too. But, in reality, he's going along with it for Peri's sake. At first, Peri acts a little bit brattish and asks: 'Why do you want this baby?'. But then she really warms to Angela."
What's Angela's relationship with Leela like?
"They're very close. They kind of grew up together."
Has Angela tried for a baby of her own?
"Yes. She and Mark lost a baby, then they tried IVF and that didn't work. They've gone down the fostering route, but she really wants to adopt a baby. She's a woman who has a great love for kids."
Did you know any of the Hollyoaks cast?
"I did. I went to school with Nick Pickard (opens in new tab), who plays Tony, I know Steph Waring (opens in new tab), who plays Cindy, and I did a panto with Diane actress Alex Fletcher (opens in new tab) years ago and we've stayed in touch."
How do you feel about being in Hollyoaks?
"It's very exciting. I'm a really big fan of the show. I've literally watched it from the beginning, when Jambo was in it. I'm over the moon."
Hollyoaks (opens in new tab), Channel 4.
Get the latest updates, reviews and unmissable series to watch and more!
Thank you for signing up to Whattowatch. You will receive a verification email shortly.
There was a problem. Please refresh the page and try again.