Colin Morgan: 'I hope Merlin fans enjoy me in Quirke!'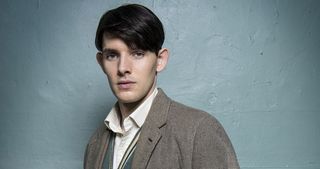 (Image credit: BBC/Steffan Hill)
Former Merlin star Colin Morgan tells us about his intriguing new role in the final episode of BBC1's crime drama Quirke...
How would you describe your character, Jimmy?
"Jimmy in the screen version is actually very different from the character in the book. On screen he's quite ambitious and playful. He's very flirtatious with Phoebe - Quirke's daughter, who is his friend. You aren't really sure whether you can trust him. There's a lot of conflict going on there between his emotional commitment to his friends and his professional ambitions as a journalist. We see a darker side to him when those two aspects are combined. He's forced to confront his friends over things and that tells us a lot about his character."
When his friend, April, goes missing, how does Jimmy react?
"Phoebe feels that something's wrong and they need to do something whereas Jimmy is a bit more 'it's fine, just relax'. They're very different in their approaches to things, but I suppose the question is whether Jimmy is trying to downplay things so he can have a story for himself. The story that emerges about April, their friend, is really pretty meaty. It's a question of whether he does know something all along. I think he does care for his friends, but the journalistic side to him is really hungry for a story too."
And how does Jimmy get on with Quirke?
"I think Jimmy really respects Quirke, he is intrigued by him, he's a crime reporter and Quirke is a pathologist so their professions are quite intrinsically linked yet I don't think Quirke is too keen on ever talking to people like Jimmy. I think Quirke is very guarded around Jimmy."
There is a suggestion that Jimmy could be a suspect in the case...
"I liked the playful aspect to him, a darker aspect to him and the question of whether he's a suspect. I thought it would be an interesting thing to work on and be a part of."
How are you feel about Merlin now, which ended last year? Do you miss it?
"Yeah, for me it's about moving forward now I suppose. I had fantastic support over the years from fans of Merlin so I do hope fans of the show will tune in and enjoy Quirke."
Colin Morgan appears in Quirke on Sunday, June 8 at 9pm on BBC1.
Get the latest updates, reviews and unmissable series to watch and more!
Thank you for signing up to Whattowatch. You will receive a verification email shortly.
There was a problem. Please refresh the page and try again.