The Angels' Share | Unlikely whisky thieves put Ken Loach in high spirits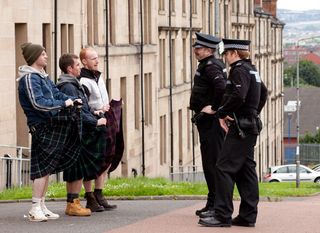 Winner of the Jury Prize at this year's Cannes Film Festival, The Angels' Share finds the usually dour Ken Loach in unaccustomed high spirits.
He's made a whimsical crime caper comedy in the Ealing vein about a bunch of delinquent Glaswegians who pull off a very unlikely heist - think Whisky Galore with sweary Neds instead of twinkling Hebridean islanders.
The central character, Robbie, played by first-time actor Paul Brannigan, is a young thug who wants to turn his life around now that he is about to become a father but appears trapped in a cycle of violence thanks to a long-running family feud.
If this were a typical Loach film then his prospects would be bleak indeed. But The Angels' Share is far more upbeat than you'd expect and things turn out very differently.
First he's given community service instead of prison. Next he discovers he has an untrained but very fine nose for whisky after being taken under the wing of his project's supervisor, big-hearted single-malt enthusiast Harry (John Henshaw). And then he learns that a cask of highly prized whisky is about to be sold at auction for a fortune.
So he hits upon a cunning scheme to siphon off a share of this bounty with the aid of three of his fellow ne'er do wells, Rhino, Mo and Albert, and sets off with them to the remote Highlands distillery where the auction is to take place.
How the quartet go about pulling off their coup is extremely far-fetched, but Loach handles the intrigue with such good-humour and warmth that you'll want to raise a wee dram to Robbie and his pals. Given that the film has previously gone out of its way to stress Robbie's violent past, that's quite an achievement. Yet winning us round chimes with the message Loach and his frequent collaborator, writer Paul Laverty, are trying to put across - the importance of giving a second chance to people society normally writes off as irredeemable.
True, the fact that Robbie's redemption comes about through stealing leaves a bit of a nasty taste and the film's harder-hitting social realist side unavoidably jars with the overall lighthearted fairytale mood. But the comic moments, many of them involving Gary Maitland's hopelessly daft Albert, are very funny indeed. The film Loach and Laverty have produced may be closer to a blended whisky than a pure single malt, but if you can overlook its faults it slips down very nicely.
On general release from Friday 1st June.
https://www.youtube.com/watch?v=PEktaUKYc7U
Get the latest updates, reviews and unmissable series to watch and more!
Thank you for signing up to Whattowatch. You will receive a verification email shortly.
There was a problem. Please refresh the page and try again.