Atomic Blonde | Charlize Theron's badass British spy proves a match for Bond and Bourne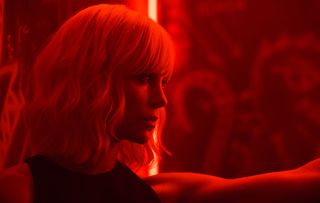 (Image credit: Jonathan Prime)
Call off the search for the next James Bond. She's already here.
Charlize Theron has all the attributes to make a killer 007 and proves it handsomely in the ferociously entertaining Atomic Blonde. She's playing a British spy for a start; one who is posh, tough, and looks good in designer clobber. She also has what it takes to charm a beautiful woman into bed. What more could you want?
OK. A Charlize Bond is not going to happen anytime soon. In the meantime, though, we can enjoy her impossibly cool agent show off her skills in this terrific spy thriller. It's based on Antony Johnston's graphic novel The Coldest City and takes place in a febrile, dangerous Berlin in November 1989, right before the fall of the Wall. A list of all the spies in the city has gone missing and Theron's MI6 agent, Lorraine Broughton, is there to recover it.
Thrilling brutality
The mission, however, goes violently awry – as we know from the debriefing that frames the action, in which po-faced interrogators Toby Jones and John Goodman pump a bruised but still gelidly self-possessed Broughton for information. The flashbacks that follow tell us how she came by those bruises. It's a fiendishly tangled intrigue; fraught with double and possibly even triple crosses. Broughton can trust no one. Not James McAvoy's sleazy, self-serving MI6 station chief, David Percival; not slinky French spy Delphine Lasalle, played by Sofia Boutella (Kingsman: The Secret Service, Star Trek Beyond); and not Eddie Marsan's nervy Stasi defector.
Le Carré aficionados will get the drift. Yet with stuntman turned director David Leitch at the helm, what ensues in Atomic Blonde is more Bourne than Tinker Tailor Soldier Spy. Leitch, co-director of John Wick, gives the action a thrilling brutality. The fight scenes are remorseless. Indeed, some go on so long that the antagonists are left bloody, bruised, and panting for breath before the end.
We're left breathless, too. But it's Theron's remarkable heroine who really makes us gasp. Looking drop-dead gorgeous as she slinks though Berlin's neon-drenched bars and clubs pursuing contacts and clues, she's drop-dead ruthless when it comes to the combat. And, as her Imperator Furiosa proved in Mad Max: Fury Road, few can match Theron when it comes to being badass. We really do believe she can take out a roomful of opponents armed only with a length of hose. Perhaps, if Bond isn't an option, she could be the next Bourne.
Certificate 15. Runtime 115 mins. Director David Leitch
https://www.youtube.com/watch?v=yIUube1pSC0
Get the latest updates, reviews and unmissable series to watch and more!
Thank you for signing up to Whattowatch. You will receive a verification email shortly.
There was a problem. Please refresh the page and try again.