The Emoji Movie | What's the verdict? Take your pick 😫 😡 👎 🤢 😞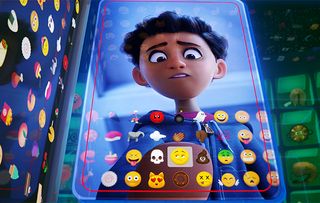 (Image credit: © 2017 CTMG, Inc. All Rights R)
Not Easy Being Meh.
It worked for plastic bricks, why not for electronic ideograms? That appears to be the cynical notion behind misbegotten CGI animation The Emoji Movie, a desperately lame bid to cash-in on the emoji craze that will leave viewers hoping for even a smidgen of the charm or inventiveness of The Lego Movie hopelessly disappointed.
The film takes place inside a teenager's phone in the app world of Textopolis and its hero is 'meh' emoji Gene (voiced by TJ Miller), an anxious misfit with too many expressions to fulfil his designated role. So he goes on a hazardous quest in a bid to fit in – accompanied by James Corden's anthropomorphic hand Hi-5 and Anna Faris's punky hacker Jailbreak – only to end up learning that it's OK to be yourself.
It's hard to decide what is most annoying about this cinematic botch: the ugly animation, the contrived story or the blatant product placement, or the fact that the filmmakers spoil almost every gag by underlining it twice. If, however, you're already chuckling at the prospect of hearing Sir Patrick Stewart voice the 'Poop' emoji ('We're number two') then this could be the movie for you.
Certificate U. Runtime 86 mins. Director Tony Leonidis
The Emoji Movie available on Blu-ray, DVD & Digital from Sony Pictures.
https://www.youtube.com/watch?v=H_nPW7xCmqk
Get the latest updates, reviews and unmissable series to watch and more!
Thank you for signing up to Whattowatch. You will receive a verification email shortly.
There was a problem. Please refresh the page and try again.