Film review | Bachelorette - Kirsten, Lizzy and Isla's bridesmaids lack their namesakes' charm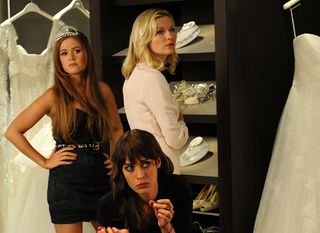 Kirsten Dunst and Isla Fisher lead the cast of raunchy chick flick Bachelorette, which strives hard to emulate hit comedy Bridesmaids, but falls short
A raunchy chick flick about girls behaving badly on the eve of a wedding, Bachelorette strives to recapture the close-to-the-knuckle comic mayhem that made Bridesmaids a surprise hit, but the essential sweetness that underpinned the earlier film's gross-out gags is sadly lacking.
Stars Kirsten Dunst, Lizzy Caplan and Isla Fisher are all in fine form, though, as the trio of friends, bitchy Regan (Dunst), snarky Gena (Caplan) and ditsy airhead Katie (Fisher), who get together for the Manhattan wedding of plump, good-natured Becky (Rebel Wilson, Kristen Wiig's flatmate in Bridesmaids), their mutual friend from high school.
Scarily self-absorbed, the threesome proceed to create havoc, ripping and staining the bride's dress while high on cocaine, a mishap that prompts the predictable race against time to fix things in time for the ceremony.
Writer-director Leslye Headland, adapting her own off-Broadway play, gives her cast sharp and smart gags ('what do you call a Bachelorette party without a bride?' 'Friday.'), but her characters behave so viciously and spitefully that their company soon begins to pall.
Released simultaneously across cinemas, video-on-demand and download to own on Friday 16th August.
https://youtu.be/LIRe-sAoY7E
To activate the sound in the trailer: hold your cursor over the screen to reveal the control panel and click on the volume control in the bottom right-hand corner.
Get the latest updates, reviews and unmissable series to watch and more!
Thank you for signing up to Whattowatch. You will receive a verification email shortly.
There was a problem. Please refresh the page and try again.