The King's Choice | World War Two Norway's darkest hour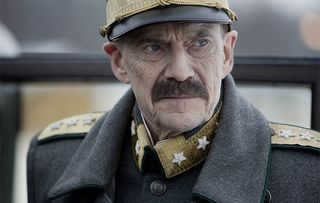 (Image credit: © 2016 Paradox/Nordisk Film Pro)
With his country under threat in 1940 from a rampant Nazi Germany, an ageing leader agonises over a do-or-die decision. The description fits Gary Oldman's Winston Churchill in Darkest Hour, but it is also the situation facing Norway's King Haakon VII when German forces invade his neutral country in the enthralling historical drama The King's Choice. Set over three days in April 1940, director Erik Poppe's painstakingly sober film - far less showy than Joe Wright's Darkest Hour – requires some initial patience from the viewer.
Yet the unfolding drama becomes increasingly gripping as the royal family flees the capital, the cabinet dithers and delays, and fresh-faced boy soldiers rally to hold off the German advance. There's no Churchillian rhetoric from the elderly duty-bound king (played by Jesper Christensen, best known as Bond adversary Mr White in Casino Royale, Quantum of Solace and Spectre). For much of the action he remains a largely passive bystander, bundled into a succession of trains and cars. But when the crisis comes to a head, the ultimate decision on whether to submit or resist finally devolves to him.
Certificate 12. Runtime 130 mins. Director Erik Poppe
The King's Choice debuts on Sky Cinema Premiere on 31 January. Available on DVD & Digital from Thunderbird Releasing.
https://www.youtube.com/watch?v=rNtu-bCGi18
Get the latest updates, reviews and unmissable series to watch and more!
Thank you for signing up to Whattowatch. You will receive a verification email shortly.
There was a problem. Please refresh the page and try again.