Mine | Stranded in the desert, Armie Hammer's US Marine puts his foot in it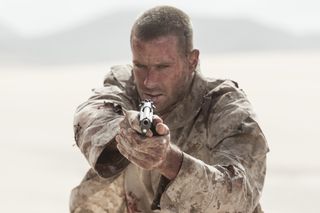 Stand Your Ground.
This high-concept survival thriller strands Armie Hammer's US marine sniper in the most perilous of predicaments. A desert mission has gone awry and he's just placed his left boot on an unexploded mine. With rescue at least 52 hours away, can he survive sandstorms, raging thirst, wild animals and his own inner demons?
Hammer does a fine job in his largely solo role, so it's a shame directing duo Fabio Guaglione and Fabio Resinaro (aka Fabio & Fabio) unhelpfully saddle him with several hallucinatory/real visitors during his ordeal, from visions of his abusive father (Geoff Bell) to Clint Dyer's annoyingly droll, philosophically minded local Berber. Without these interventions, this stylishly shot and sometimes suspenseful movie would have been much more successful.
Certificate 15. Runtime 107 mins. Directors Fabio Guaglione, Fabio Resinaro
Mine debuts on Sky Cinema Premiere on 1 December. Available on Blu-ray, DVD & Digital from Universal Pictures.
https://www.youtube.com/watch?v=gKLtd8ArmNU
Get the latest updates, reviews and unmissable series to watch and more!
Thank you for signing up to Whattowatch. You will receive a verification email shortly.
There was a problem. Please refresh the page and try again.