The Guest | Film review - Downton's Dan rips his cosy image to shreds in this delirious psycho-killer thriller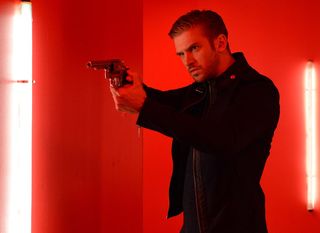 Dan Stevens rips his cosy Downton Abbey image to shreds with a mesmerising performance as a cold-blooded killer in The Guest, a slick, suspenseful, explosively exciting, darkly comic psycho thriller.
To begin with, however, his character, David, is almost as charming as Downton's Cousin Matthew. Taken to the bosom of a grieving New Mexico family after turning up at their door and declaring himself a comrade in arms of their dead soldier son, he seems the perfect houseguest. He's briskly courteous to parents Laura (Sheila Kelley) and Spencer (Leland Orser), and full of helpful fraternal advice to bullied son Luke (Brendan Meyer).
Only sceptical teenage daughter Anna (Maika Monroe) finds anything amiss about the stranger - although even she wavers when she encounters his buff bare torso emerging from a steamy shower. Sure enough, as David's secrets slowly emerge, the neighbourhood's body count rises…
Director Adam Wingard and writer Simon Barrett, makers of home-invasion slasher movie You're Next, have come-up with a hugely enjoyable throwback to 1980s horror thrillers, with a heavily signposted Halloween setting, a doomy synth-laden score and even a deliriously over-the-top climax in a fun-house hall of mirrors that stops just the right side of parody. But the film's ace is undoubtedly Stevens, American accent and sinister smirk perfectly in place, and deploying dangerous blue-eyed cool to lethal effect.
Certificate 15. Runtime 100 mins. Director Adam Wingard.
https://www.youtube.com/watch?v=-psayRM1XqU
Get the latest updates, reviews and unmissable series to watch and more!
Thank you for signing up to Whattowatch. You will receive a verification email shortly.
There was a problem. Please refresh the page and try again.