Wonder Wheel | Woody Allen returns to familiar haunts in Coney Island melodrama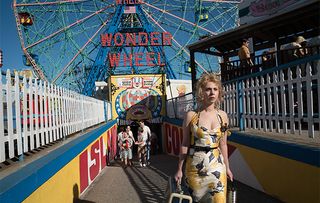 Get past the contrived set-up and a miscast Justin Timberlake, and there's much to enjoy in Wonder Wheel, Woody Allen's melodrama set in 1950s Coney Island starring a fiery Kate Winslet.
Woody Allen is back on familiar ground with this creaky but engaging melodrama set in 1950s Coney Island. He's used New York's gaudy working-class playground before, of course, in Annie Hall and Radio Days; and the story he has contrived for Wonder Wheel is pretty familiar too.
Kate Winslet's Ginny is a self-deceiving sister under the skin to Cate Blanchett's tragicomic heroine in Blue Jasmine. Pushing 40, this one-time actress bristles with disappointment, both in her marriage to her second husband, beefy carousel operator Humpty (Jim Belushi), and in her work as a waitress in a beachfront clam house.
Then she begins an affair with handsome young lifeguard Mickey (Justin Timberlake), a would-be playwright with intellectual pretensions to match her own yearnings. For Mickey, it's a summer fling; for Ginny, the liaison means so much more. But Humpty's estranged daughter Carolina (Juno Temple), on the run from her gangster husband and seeking refuge, has also turned up, throwing fresh complications into the mix.
How much you enjoy all this will depend on your attitude to latterday Woody Allen. You'll need tolerance for the heightened dialogue and contrived set-up; and for the wildly miscast Timberlake, who also serves as the film's fourth-wall-breaking narrator. And you'll need to be able to stomach the sight of Allen putting another delusional middle-aged woman through a Tennessee Williams-esque emotional wringer.
Get past these, however, and you'll be rewarded by the gorgeous cinematography of Vittorio Storaro, legendary lenser of The Conformist and Apocalypse Now; by Santo Loquasto's stunning period production design (courtesy, it would appear, of Amazon Studios' deep pockets); and by Winslet's incandescent leading turn.
Certificate 12A. Runtime 101 mins. Director Woody Allen
https://www.youtube.com/watch?v=VFM0UqX9MJ8
Get the latest updates, reviews and unmissable series to watch and more!
Thank you for signing up to Whattowatch. You will receive a verification email shortly.
There was a problem. Please refresh the page and try again.