The Burning Plain - Is Guillermo Arriaga's fragmented drama less than the sum of its parts?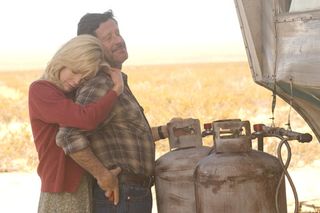 "A story should have a beginning, a middle and an end… but not necessarily in that order."
Jean-Luc Godard's famous, teasing pronouncement doesn't go far enough when you're dealing with Guillermo Arriaga. The Mexican screenwriter appears to throw the building blocks of his stories into the air and let them lie wherever they fall. If you've seen Amores Perros, 21 Grams or Babel, films he wrote for his compatriot, director Alejandro González Iñárritu, you'll know that it's left to the viewer to solve the resulting jigsaw puzzle.
He's indulging in his familiar shtick with The Burning Plain, his first film as a director, splintering narrative and characters with abandon - and leaving us to pick the pieces.
What we're presented with goes something like this: first, the striking, enigmatic image of a blazing trailer in the middle of an arid desert landscape – the shot that opens the movie. Then the very different surroundings of coastal Oregon, where we encounter Charlize Theron's restaurant manager Sylvia, whose cool, professional exterior masks a clearly troubled inner life, a turbulence that seeks an outlet in self-harming and casual sex.
Then we're back in the desert again, in New Mexico it appears, where Kim Basinger's wife and mother, Gina, is conducting a passionate illicit affair to the dismay of her teenage daughter, Mariana (Jennifer Lawrence).
And then we're in Mexico itself, where crop-duster Santiago (Danny Pino) comes a cropper in his plane and ends up critically ill in hospital, leaving his young daughter, Maria (Tessa Ia), in the care of his best friend, Carlos (José Maria Yazpik)…
How do all these storylines fit together? What is the movie's time frame? Why is Sylvia cutting herself and shagging anyone in trousers? What's her connection with the other characters?
As it happens, the answers to these questions aren't that much of a stretch, leaving the reasonably alert viewer time to ponder such issues as: When is Charlize going to smile? How much plastic surgery has Kim Basinger had to look this gorgeous at the age of 55?
The film isn't a total write-off, though, unlike the flaming trailer in the opening shot. It looks fabulous (the cinematography is by Robert Elswit, who won an Oscar for There Will Be Blood (opens in new tab) last year) and the acting's fine, but I feel that Arriaga's trademark broken jigsaw-puzzle narrative style is now producing diminishing returns.
I was bowled over by Amores Perros and genuinely moved by 21 Grams, and felt that their multi-stranded storylines developed a cumulative force as the separate narratives came together, but when Babel came around I ended up feeling that unravelling the story's tangled coils merely left you with a coincidence-ridden melodrama.
The Burning Plain has individual scenes that are powerful and moving, but in the end the whole is considerably less than the sum of its parts.
General release from 13th March
A film critic for over 25 years, Jason admits the job can occasionally be glamorous – sitting on a film festival jury in Portugal; hanging out with Baz Luhrmann at the Chateau Marmont; chatting with Sigourney Weaver about The Archers – but he mostly spends his time in darkened rooms watching films. He's also written theatre and opera reviews, two guide books on Rome, and competed in a race for Yachting World, whose great wheeze it was to send a seasick film critic to write about his time on the ocean waves. But Jason is happiest on dry land with a classic screwball comedy or Hitchcock thriller.
Get the latest updates, reviews and unmissable series to watch and more!
Thank you for signing up to Whattowatch. You will receive a verification email shortly.
There was a problem. Please refresh the page and try again.