Nicholas Lyndhurst: 'It's a telly first: I beat up Dennis Waterman!'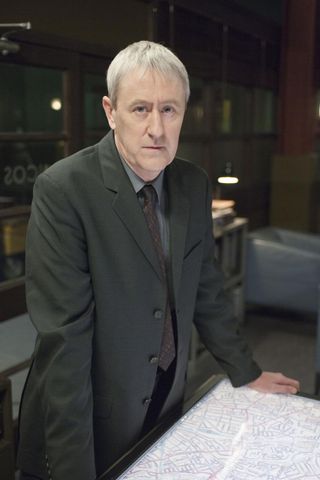 As he joins hit BBC1 series New Tricks, actor Nicholas Lyndhurst talks to TV Times magazine about getting older, avoiding Strictly and why he will always be Rodney Trotter…
How do you feel about landing a role in New Tricks?
"It's really exciting. It has been noted that I've gone from a number one sitcom to a number one drama, which is very flattering as an actor. It's nice to come out of my comfort zone – hopefully I will be able to earn my stripes on New Tricks!"
Have you always been a fan?
"Of course I watch it, it's a great show! What's always fascinated me is the fact that it very quietly tops the ratings all the time. You've got all the other shows that are banging drums the whole time, saying how fantastic they are, but New Tricks doesn't need to do that. It's very attractive for an actor to see that."
You play ex-copper Danny Griffin, who we hear immediately irritates the UCOS gang…
"They're such lovable characters, so I was a bit worried when I heard Danny was going to come in and be very much less than lovely!"
What's he likes, then?
"Danny's sense of humour's not very good, he's socially awkward and he's quite straight-laced about rule-breaking. He likes to play mind games with suspects and that's something that Dennis Waterman's character Gerry doesn't understand at all."
Do Gerry and Dan end up in any confrontations?
"Gerry thinks Danny is a mole and the pair do come to blows. We filmed the fight scene during my first week on the job so I was very careful. Not many people have beaten up Dennis Waterman – it's probably a telly first!"
How have you been getting on with your fellow cast members?
"Everyone is great. I don't know if it's to do with age or experience, but everyone knows exactly what they're doing because they've all been acting for so long. That makes it enjoyable to come to work."
Have you ever been tempted to take part in other programmes?
"I would have been stupid not to do this. I probably turn down 90 per cent more projects than I accept and I regularly reject reality shows. It's a 'No' to every single one of them – nothing could persuade me."
You enjoy flying and deep sea diving. Have you never been interested to present documentaries?
"A diving show was mooted once, but not by me. I'm of the generation that remembers Jacques Cousteau and he did it best. Just because I'm off the telly it doesn't make it any more interesting that I go diving."
What do you think about the state of television at the moment?
"TV has got to evolve and if the fashion at the moment is to go young then so be it. But that's the litmus test of actually getting older – noticing that everything is getting younger! We've all been beginners in something or other, but I'm not sure I want to see quite so many young people all the time."
Do you think you will forever be known as Rodney Trotter from Only Fools and Horses?
"There's always going to be Only Fools and Horses – anyone who was in the show came to that conclusion years ago. The recognition never really goes away and we know we're always going to be associated with the programme, we're not silly. People used to tell me their dads loved me but I'm getting to the age where they talk about their grans now. I very rarely get called a 'plonker' though – it's almost exclusively journalists and scaffolders who come out with that!"
What have been your career highlights to date?
"The proudest moment of my career was doing a play called The Dresser in 2004 and watching the audience crying with me at the end of it. That was a sort of 'Gotcha' moment, because the audience thought they were coming to watch the funny geezer off the telly, but they were in tears. That was a little feather in my cap."
Would you mind staying on with New Tricks into further series?
"I'm absolutely happy to stay in it for as long as they'll have me. I tend to go with the flow in this industry."
Get the What to Watch Newsletter
The latest updates, reviews and unmissable series to watch and more!