15 of the best jokes at Edinburgh Festival Fringe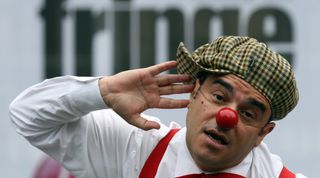 Edinburgh Festival Fringe isn't complete without the jokes.
Last year comedian Tim Vine dusted off his joke book and cleaned up at the Edinburgh Fringe when his one-liner was voted the funniest wisecrack of the festival.
We take look at the some of the judges' favourites spanning across half a decade.
2014
Tim Vine (Yui Mok/PA)
1. "I've decided to sell my Hoover … well, it was just collecting dust" – Tim Vine
2. "I've written a joke about a fat badger, but I couldn't fit it into my set" – Masai Graham
3. "Always leave them wanting more, my uncle used to say to me. Which is why he lost his job in disaster relief" – Mark Watson
2013
Rob Auton (Martina Salvi/ Taylor Herring/PA)
1. "I heard a rumour that Cadbury is bringing out an oriental chocolate bar. Could be a Chinese Wispa" – Rob Auton
2. "I used to work in a shoe-recycling shop. It was sole-destroying" – Alex Horne
3. "I'm in a same-sex marriage… the sex is always the same" – Alfie Moore
2012
Stewart Francis (Yui Mok/PA)
1. "You know who really gives kids a bad name? Posh and Becks" – Stewart Francis
2. "Last night me and my girlfriend watched three DVDs back to back. Luckily I was the one facing the telly" – Tim Vine
3. "I was raised as an only child, which really annoyed my sister" – Will Marsh
2011
Nick Helm (Ian West/PA)
1. "I needed a password eight characters long so I picked Snow White and the Seven Dwarves" – Nick Helm
2. "Crime in multi-storey car parks. That is wrong on so many different levels" – Tim Vine
3. "People say 'I'm taking it one day at a time.' You know what? So is everybody. That's how time works" – Hannibal Buress
2010
Emo Philips (Todd Williamson/Invision/AP)
1. "I've just been on a once-in-a-lifetime holiday. I'll tell you what, never again" – Tim Vine
2. "I'm currently dating a couple of anorexics. Two birds, one stone" – David Gibson (as Ray Green)
3. "I picked up a hitchhiker. You gotta when you hit them" – Emo Philips
Get the latest updates, reviews and unmissable series to watch and more!
Thank you for signing up to Whattowatch. You will receive a verification email shortly.
There was a problem. Please refresh the page and try again.