James Nesbitt: 'I'm very proud to have Cel as a screen son in Cold Feet'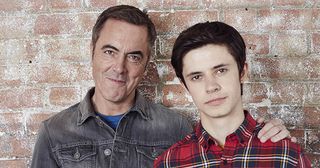 (Image credit: ITV)
Adam and Matthew's relationship could be about to turn a corner in Cold Feet, as stars James Nesbitt and Cel Spellman explain...
Cold Feet's James Nesbitt and Cel Spellman tell TV Times about their bond both on and off-screen...
How has the relationship between dad Adam and son Matthew developed? Cel: "The closeness was never going to come back straight away, but it is better than when you first saw them. They're in a better place to make the relationship work and learn about each other and rekindle that lost bond. But Matthew has a lot of his dad in him, he is good with the ladies, and he's going to get into more predicaments on that front." James: "Adam has misjudged his role as a father and he realises something needs to change before it is too late.The relationship with your child is a big thing. That was what excited me about this because my own daughters [Peggy, 19, and Mary, 14, with ex-wife Sonia Forbes-Adams] weren't born when we filmed the pilot. But that relationship has been the backdrop to my life in the intervening years."
What was it like visiting Piccadilly Records, as you do in the episode? Cel:"Piccadilly Records is the Holy Grail of music, and Jimmy has got good taste, although there were some rap or hip-hop artists I mentioned who he had no idea about, and a few he told me about went straight over my head." James: "I loved coming back up there. I think the Mancunians feel protective of Cold Feet, it's their show as much as our show. There's a sense of community about it. I hope we have brought it alive on screen again."
How do you get on off screen? James: "Cel is brilliant, we feel blessed to have him around and I'm very proud to have him as a screen son." Cel: "Just to share a set with somebody of his calibre has been one of the best lessons you can get. He made it so easy and our relationship came to life straight away and that is down to how lovely Jimmy is.
"We went for a few drinks and he told me just to love every minute, and I am very thankful to him for making my first series with Cold Feet so wonderful. I have been welcomed into the Cold Feet family and made friends for life with all of the cast."
Is there anything you don't agree on? James: "Cel is a Manchester City fan and I, like my character, support Manchester United. Earlier in the series, Cel had to reluctantly don a United shirt and even visit the club's Old Trafford ground to film some of the scenes. I have been trying to get the pictures of him wearing a United shirt out there as much as possible." Cel: "I wanted to bring Jimmy's shirt into his trailer on fire in a bin but they wouldn't let me. Now I want to drag him to City's ground to watch some real football!"
Get the latest updates, reviews and unmissable series to watch and more!
Thank you for signing up to Whattowatch. You will receive a verification email shortly.
There was a problem. Please refresh the page and try again.