After his marathon heroics, Eddie Izzard uses his Powers for evil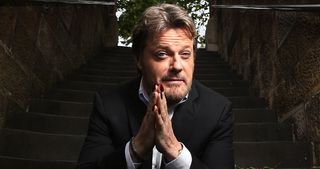 (Image credit: Newspix/REX/Shutterstock)
Fresh from his heroic marathon Sport Relief charity exploits, Eddie Izzard reveals his villainous side in Powers, a US sci-fi crime thriller new to Spike.
Created by the team who made The Walking Dead, Powers turns the concept of superheroes on its head and asks: what if the world was full of superheroes who aren't heroic at all?
Powers follows the lives of two homicide detectives, Christian Walker (Sharlto Copley) and Deena Pilgrim (Susan Heyward), while the ensemble cast includes Eddie as a villain Wolfe, plus Noah Taylor, Michelle Forbes, Olesya Rulin, Max Fowler, Adam Godley and Logan Browning. The detectives in the Powers Division are assigned to investigate cases involving people with extraordinary abilities who use them for mischief, mayhem, murder, and... endorsement deals.
Acting Spike manager Anna-Belen Dunlop said: "I'm delighted to welcome edgy crime drama, Powers to the Spike schedule. With a great cast and impressive effects, it's an exciting twist on the superhero genre. I'm sure our audience will enjoy it as much as From Dusk Till Dawn, Breaking Bad and The Walking Dead."
The series is based on the graphic novel series of the same name, and is executive produced by the team behind Caprica (the prequel to Battlestar Galactica) and iconic comics including Marvel's Ultimate series, Daredevil and Judge Dredd. Powers is distributed by Sony Pictures Television.
Watch the trailer (Warning – there is strong language):
http://www.youtube.com/watch?v=qqtgtyYAT50
Get the latest updates, reviews and unmissable series to watch and more!
Thank you for signing up to Whattowatch. You will receive a verification email shortly.
There was a problem. Please refresh the page and try again.