Anne Reid: 'I'd love to make more Last Tango in Halifax'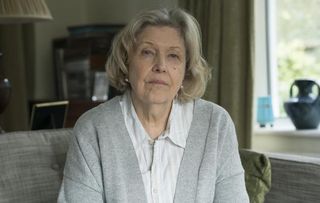 (Image credit: Christopher Raphael / Courtesy o)
Last Tango in Halifax star Anne Reid reveals her role in a new sci-fi drama, the future of Last Tango and the secret to her seemingly endless energy…
Anne Reid (opens in new tab) is a powerhouse of British acting, so we don't mind admitting we're a bit nervous before chatting to the Last Tango in Halifax star. But soon nerves are replaced with a sense of awe at Anne's energy, humour and enjoyment at everything life presents… and a bit of inspiration to say 'yes' when opportunity knocks!
During a break in rehearsals for A Woman of No Importance (opens in new tab) (which opens 6 October, at the Vaudeville Theatre in London's West End), Anne, 82, joined TV Times for a chat about The Commuter, the latest of the stand-alone dramas in C4's Philip K. Dick's Electric Dreams series. Anne's keen to emphasis she has a small role as journalist Martine Jenkins in The Commuter, a story that centres on unassuming train worker Ed Jacobson (Timothy Spall), who's life is transformed when mysterious passenger Linda (Tuppence Middleton (opens in new tab)) requests a ticket to nonexistent Macon Heights…
Here is the TV Times interview with Anne Reid…
TV Times: We have to ask – any chance Last Tango in Halifax will return?
Anne Reid: "Derek, Sarah [Lancashire], Nicola [Walker] and I would LOVE to do it. But Sally Wainwright is writing Shibden Hall at the minute and we can't do anything without her. I keep saying to people, 'write to Sally Wainwright, bombard her with letters until she gives in!' Last Tango was the prefect job."
TVT: You're not short of projects either!
AR: "I've been so lucky – I've just had the most wonderful year. In A Woman of No Importance I'll be singing old music hall songs like My Father's a Drunkard between scene changes, while some of the cast play instruments – it's such a treat to do the play and sing as well! I've just finished filming a comedy with John Cleese and Alison Steadman called Hold the Sunset. And I'm doing my cabaret again in January at Brassiere Zedel. I think people must be sick to death of me!"
TVT: How do you do it? Your energy never seems to wane!
AR: "Do you want to bet? The minute we finish this interview I'm going for a nap! I often catnap; I think that's how I keep my energy going. I'm fortunate too, when you've something you really want to do, you find the energy for it, don't you? Keep going is my motto"
TVT: It's a great motto…
AR: "Somebody said to me years ago 'if you do what you always did, you'll get what you always got.' I think its much better to do things and regret them rather than not do them and regret that. I'm very much a 'yes' person. I say yes and find out what is it afterwards. Its disastrous to get fearful of trying anything – you've got to keep pushing the walls of your life out."
TVT: What enticed you to say yes to this Philip K. Dick piece?
AR: "I wanted to work with Tom Harper (opens in new tab), the wonderful young director of War & Peace. Also I love Timothy Spall, and I've never played a journalist before and I've always wanted to because my whole family were journalists. So I looked at the script and thought, at last, I can tick that box!"
TVT: It's a small role but key to Ed's understanding of what's happening in The Commuter...
AR: It's really Tim Spall's story about a stationmaster. He can get off the train into a kind of ghost city, where you go if your life isn't complete. Martine Jenkins is a retired journalist, she's known about this train for years but it won't stop for her. When Ed comes to her she's the first person who doesn't say he's talking rubbish because she researched it years ago. It's a great mystery.
TVT: Do you enjoy travelling by train?
AR: "I love trains! When we did Last Tango Derek [Jacobi] and I were up and down from Euston to Manchester all the time. I would learn my lines on the train sometimes. Though most of the time I'd have a drink and go to sleep! In the old days, when I was young and touring around the country, the actors used to meet up at various stations. Crewe was the famous one, where one troupe would be going north and another would be going south – the trains were good fun in those days!"
TVT: Have you ever travelled on the Orient Express?
AR: "I'd love to go on the Orient Express! I travelled to Rome by train with my friend when we were young girls. We thought we'd end up meeting two glamorous men but we actually ended up having dinner with two housewives from Birmingham – that was disappointing! Not quite as romantic as we expected."
Electric Dreams: The Commuter will be shown on C4 at 9.00pm pm on 1 October.
With twenty years of experience as an entertainment journalist, Elaine writes for What's on TV, TV Times, TV & Satellite Week and (opens in new tab)www.whattowatch.com (opens in new tab) covering a variety of programs from gardening and wildlife to documentaries and drama.
As well as active involvement in the WTW family's social media accounts, she has been known to get chatty on the red carpet and wander into the odd podcast.
After a day of previewing TV, writing about TV and interviewing TV stars, Elaine likes nothing than to relax… by watching TV.
Get the latest updates, reviews and unmissable series to watch and more!
Thank you for signing up to Whattowatch. You will receive a verification email shortly.
There was a problem. Please refresh the page and try again.