Black Earth Rising star John Goodman: 'I don't think of myself as funny, but I guess some people do'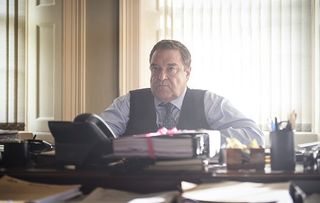 (Image credit: BBC/Drama Republic/Des Willie)
John Goodman and Michaela Coel on their powerful new drama…
They're best known for their comedy roles but Roseanne's John Goodman and Chewing Gum's Michaela Coel are not playing it for laughs in BBC2's tense eight-part thriller Black Earth Rising, which starts tonight at 9pm.
John is lawyer Michael Ennis, the boss of troubled legal investigator Kate Ashby, played by Michaela. As a child, Kate was rescued from the 1990s Rwandan genocide and adopted by Michael's old friend, international criminal lawyer Eve Ashby (Harriet Walter).
But when Michael encourages Eve to prosecute General Nyamoya (Danny Sapani), an African militia leader accused of war crimes, Kate is opposed to her mother becoming involved because Nyamoya also helped to end the genocide.
Here, Black Earth rising stars John Goodman, 66, and Michaela Coel, 30, tell us more…
What's your take on Kate and Michael?
Michaela Coel: "Kate is my hero. She has no memory of her life before moving to the West, so she has a naivety as well as determination and she is seeking resolution along with pursuing the truth. But it's hard because her mum is her rock and then they have this conflict."
John Goodman: "Michael's daughter is in a coma and he seems to be a very lonely man, disconnected and disheartened and a bit lost."
What was it like filming in Africa?
Michaela: "We filmed in Ghana, where my parents were born, and it was my first time going home. It was absolutely overwhelming and beautiful and a rollercoaster, like the story itself. I'll be going back."
Do your comedic backgrounds bring a different energy to such a dark subject matter?
John: "It's the energy of desperately trying to fit in! Sure, it's casting against type and it brings a tension to the piece. Michael is desperately sad and overcompensates and that's where the humour is. I don't think of myself as very funny though but I guess some people do!"
Black Earth Rising starts tonight on BBC2 at 9pm.
Get the latest updates, reviews and unmissable series to watch and more!
Thank you for signing up to Whattowatch. You will receive a verification email shortly.
There was a problem. Please refresh the page and try again.