10 Burning Questions That Need Answers in Better Call Saul 3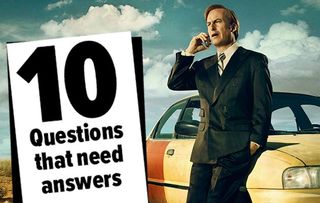 The Breaking Bad spin-off Better Call Saul returns on April 10, but many questions remain hanging over Slippin' Jimmy... 10 in fact!
*Contains spoilers from season 1 and 2 below!
Caught confessing to a felony at the end of Better Call Saul season 2 on Netflix, charming, crooked lawyer Jimmy McGill (Bob Odenkirk) is in more than a spot of bother. However, considering we know the future of Jimmy thanks to Breaking Bad, here are 10 questions we have and and the gaps we think need filling in season 3.
1. Can Jimmy repair his relationship with Chuck?
Saying Jimmy and Chuck (Michael McKean) have a love-hate relationship is more than stating the obvious. Insistent on proving that Jimmy doctored documents from the Mesa Verde case, big brother Chuck managed to catch him admitting to the felony by way of secretly recording him. Considering some of the promo shots from season 3 hint at Jimmy in prison, does this mean Chuck and Jimmy's relationship is now irreparable or will the pair finally see eye-to-eye?
2. Who stops Mike shooting Hector?
All set to put an end to his problems with Hector Salamanca (Mark Margolis) by shooting him at the end of the last series, Mike Ermantraut was left a mysterious note on his car with the message "Don't"... But who put it there? With the return of Gus Fring (Giancarlo Esposito) this series, could it be him? Or is someone else in the Salamanca clan warning him in secret? We need answers!
3. How and when does Hector Salamanca have a stroke that leaves him wheelchair-bound in Breaking Bad?
Talking of Hector, it was revealed in Breaking Bad that a stroke had left him in a wheelchair and ringing the infamous bell to communicate with people. However, so far in Better Call Saul, Hector has been fit as a fiddle. At what point does he have his stroke and could it even have been caused by Mike – or possibly Gus?
4. What is Gus's relationship with Mike and Jimmy?
With most of the promotion for the new series featuring Gus Fring, it's safe to assume that one of TV's most ferocious villains will play a key role this time around. With Mike going on to later work as Gus's hitman, what we don't know is the extent of Gus and Jimmy's run-ins. How well do they really know each other prior to Breaking Bad?
https://youtu.be/CH1eDm0p8N8
Also, much of Gus's back story has been kept rather secret thus far. All we know is he has children, but with who is still a mystery. Is this the series we finally delve into the Fring family history? Let's hope so!
5. What happens to Kim and Jimmy's relationship?
Season 2 saw Kim (Rhea Seehorn) and Jimmy's relationship go up a notch, but every time the pair seemed to be getting somewhere, things seemed to take another step back. The last time we saw them they were both working as independent lawyers, but sharing a building. However, after Kim slapped Jimmy after she found out about his shady doings in the Mesa Verde case, will their relationship end in tears, or will Kim and Jimmy end up marrying? All of which leads nicely on to...
6. Will we see Jimmy get married?
We know Jimmy gets married twice, as revealed by Saul in Breaking Bad. However, in Better Call Saul we are yet to find out who he gets married to. Is one of his brides Kim? All we know is Jimmy finds his second wife cheating on him with his step-dad, so if that isn't a story worth telling we don't know what is!
7. How does Chuck die?
There is no mention of Chuck in Breaking Bad, so either the McGill brothers' relationship is beyond repair, or Chuck dies at some point before the show starts. Despite their rivalry, there is undoubtedly some brotherly love between them both, but how Jimmy's older brother disappears from his life is a mystery that needs answering.
8. How does Jimmy meet Ed, the man who eventually helps him change identity at the end of Breaking Bad?
OK, this one might be a bit of a long shot, but we are certain there's an interesting story to tell here. One of many people who Jimmy knows comes in quite handy for Saul and Walter in Breaking Bad, as Ed (aka 'The Disappearer") helps them both change identities near the end of the show. We know Saul goes on to live as Gene in Nebraska, but how does Ed come across Saul in the first place? Where do they meet and how does he strike a strong enough relationship with him that entrusts him with handing out new identities?
9. What happens to Gene, after Jimmy changes his identity?
On the subject of Gene, we see several flash-forwards to Jimmy's later life working in a shopping-mall Cinnabon in Nebraska, but how far will we get to see it? We're hoping at some point in the new season we'll find out more of his post-Breaking Bad life, and what he gets up to the midwest. Surely there are at least one or two of his antics we'll witness...
10. How does Jimmy become Saul?
Despite the show's title, throughout the series we are actually yet to meet Saul Goodman! We know at some point Jimmy morphs into Saul but how, why and when has yet to be explored in the show. Surely it's high time to give the people what they want... 'Better Call Jimmy' just doesn't flow as well!
Better Call Saul season 3 is released Monday, April 10 on Netflix
Get the What to Watch Newsletter
The latest updates, reviews and unmissable series to watch and more!