13 Fabulous Fashions Through The Ages... As Seen On TV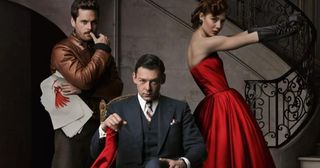 Amazon Video's The Collection brought the world of fashion back into full focus. Here, we select 13 of the most stylish TV shows
With the entire series of The Collection now available to stream on Amazon Video, it made us recollect the shows that combined high drama with haute couture.
From costume romps like Mr Selfridge to the über style of Mad Men, here are 13 of our favourites…
The Borgias Set in 15th-Century Italy and starring Jeremy Irons as patriarch Borgia-turned-Pope, the drama won two Emmys for outstanding costumes. Here's Lucrezia Borgia (Holliday Grainger) in full finery…
Outlander Who knew 18th-Century Scotland was so ahead of the fashion curve? Bonnets and bodices have never looked so ravishing, as stars such as Catriona Belfe wear.
Victoria The young Victoria, played by Jenna Coleman, has yet to reach the dowdy days that we associate with Queen Victoria. In this ITV drama Victoria was never less than pretty and elegant…
Mr Selfridge (set in 1910-28) Selfridge's is known these days for its designer clobber, a tradition that has continued since the dawn of the iconic department store. The ITV drama captured the glamour of the times, including those cheeky Dolly sisters in their flapper dresses...
Peaky Blinders (1919) Cillian Murphy cuts a dashing figure in this menacing, but stylish show about a Birmingham gangland family. The series won two Film and TV Awards for costumes in 2014 and 2015.
Downton Abbey (1920s) From Mary Crawley's striking bobbed crops (it won two Emmys for hairstyling) to her stylish outdoor wear, we fell in love with the roaring '20s…
Call the Midwife (1950s) Vivacious midwife Trixie (Helen George) couldn't wait to get out of her nurse's uniform and brighten up the grey streets of post-war Poplar in London's East End...
Mad Men (1960s) The stylish series based around the enigmatic New York advertising executive Don Draper (centre) won five Golden Globes, plus an Emmy for outstanding costumes, as well as awards for hair and make-up. It was never less than slick and sexy…
Dallas (1978-1991) 1980s fashions seem oh-so-dated, but at the time Sue Ellen's shoulder pads were de rigueur… Time for a comeback?
Dynasty (1980) The prime-time soap, which ran from 1981-1989, was America's number one show in 1985. The series starred John Forsythe as oil magnate Blake Carrington, Linda Evans as his wife Krystle, and Joan Collins (below) as his ex wife Alexis...
Sex and the City The series that centred on New York writer Carrie Bradshaw (Sarah Jessica Parker) and her three best gal pals – Samantha (Kim Cattrall, below), Charlotte (Kristin Davis) and Miranda (Cynthia Nixon) – was a treat for fashionistas in the 90s and designers clambered to get their garments onto the show.
Gossip Girl (2000s) Teenage girls were enthralled by the enviable wardrobe of stars Blake Lively (Serena van der Woodsen, below), Kelly Rutherford (Lily van der Woodsen), and Sofia Black (Sage Spence). Did they ever wear the same outfit twice?
Scandal (2012-) The star of this Sky Living legal drama, Kerry Washington, who played hotshot lawyer Olivia Pope, launched her own fashion line in collaboration with the show's costume designer Lyn Paolo and put office power dressing back in vogue. Here are just a two examples of Olivia's gorgeous and cavernous wardrobe…
Get the latest updates, reviews and unmissable series to watch and more!
Thank you for signing up to Whattowatch. You will receive a verification email shortly.
There was a problem. Please refresh the page and try again.