The Greatest TV Villains To Dress Up As For Halloween 2017!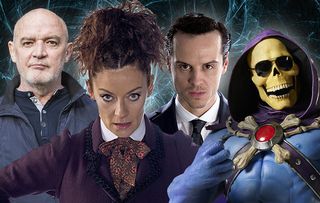 Need a last-minute costume for Halloween but can't think of one to wow the crowds? We've got you sorted with these great TV villains perfect for the big day!
Need some inspiration for a Halloween costume this year? Below are fourteen of the best TV villains you could dress up as for Trick or Treating:
Thomas Shelby (Peaky Blinders)
(Pic BBC)
Who: Flat cap wearing gang leader who slices his way through Birmingham in the 1920s BBC period drama. Played by Cillian Murphy.
What you'll need: Plenty of tweed. A tweed flat cap is a must and a long coat will help with the Halloween chill. Add a smart tweed suit underneath and don't forget a pocket watch accessory for added 20s nostalgia.
Jim Moriarty (Sherlock)
(Pic BBC)
Who: Sherlock's arch nemesis, played by Andrew Scott in the BBC drama. The Irish character is a criminal mastermind hated by all!
What you'll need: Sweep back your hair and add a very faint moustache. For clothes, you'll need a smart suit with a thin tie and long sweeping coat - think autumn city worker. To make it obvious who you are, write 'did you miss me?' on your back to really creep everyone out!
Negan (The Walking Dead)
(Pic AMC)
Who: The Walking Dead's chief villain and nightmare-inducing owner of Lucille, his barbed wire baseball bat.
What you'll need: Think 1950s biker to replicate this one. Black leather jacket, blue jeans and a red scarf peeking out over your jacket. Add a fake grey beard (if you can't grow one yourself, that is), and find a baseball bat that can be wrapped in wire around the top. Maybe avoid barbed wire...you don't want to accidentally end up in A&E this Halloween.
Skeletor (Masters of the Universe)
Who: Animated character from the Masters of the Universe franchise. More recently the face of a Money Supermarket ad, where he can be seen 'Dirty Dancing' with He-Man, his arch enemy.
What you'll need: Blue morph suit, a purple hood and loincloth plus a yellow skeleton face mask. To really top off your outfit, you need his weapon which you can make by attaching a cheap skeleton head to a long pole. However for a Halloween disco maybe ditch the pole, otherwise the bouncer will take it anyway.
Joffrey (Game of Thrones)
Pic: HBO
Who: "Joffrey of Houses Baratheon and Lannister, First of His Name, King of the Andals and the First Men, Lord of the Seven Kingdoms, and Protector of the Realm..." AKA the much-hated former holder of the Iron Throne.
What you'll need: Blond mop-style hair and royal attire with armour. Dress like the king you are, wear a gold crown and plenty of jewellery to boast your riches to the other mere mortals. A good accessory would be a wine glass, representing your eventual death via poisoned wine.
Cersei (Game of Thrones)
Pic: HBO
Who: If you don't fancy dressing up as Joffrey, the current occupant of the Iron Throne, fierce queen Cersei would be a great plan B.
What you'll need: Short ginger hair (or long curly hair depending on which series of Got you're up to), tudor-style long dress, a corset and a large necklace to assert your dominance. Don't forget the crown!
Phelan (Coronation Street)
Pic: ITV
Who: Corrie builder who is now one of soap's best-ever villains.
What you'll need: Dress like you're going to the allotment: baggy navy blue fleece or jacket along with baggy jeans. Shaved head with grey stubble.
Aunt Babe (EastEnders)
Pic: BBC
Who: EastEnders former character known for her devious and often despicable schemes in Albert Square.
What you'll need: Hair in an untidy blonde bob, polarneck jumper, grey trousers and a gilet. Wear a cross body bag so you can keep your list of devious plots close at hand.
Missy (Doctor Who)
Pic: BBC
Who: The female incarnation of Doctor Who villain, The Master. Played by Michelle Gomez, she was killed off in the last series in an action-packed finale.
What you'll need: A long purple jacket with shoulder pads and matching long skirt. Wear a light shirt underneath with either a tie or cravat and do your hair up but not too smart otherwise you'll look like Mary Poppins. Add lots of eye makeup and bright red lipstick for her piercing glare.
Sideshow Bob (The Simpsons)
Who: Although most Simpson-related Halloween costumes will be Mr Burns, shock the crowd by turning up as Sideshow Bob, the former sidekick of Krusty the Clown who tried to frame his former boss but ended up in prison himself.
What you'll need: Yellow face paint, a green shirt with top buttons undone, blue trousers...oh, and MASSIVE red hair. Buy a wig for this one, otherwise if your hair's not long enough you'll end up looking like a ginger The Weeknd.
The Commander (The Handmaids Tale)
Pic: Hulu
Who: Head of the household where the Offred the Handmaid works.
What you'll need: Full black and white suit. Hair needs greasing flat in a parting and a shortly clipped beard. However, if you don't fancy dressing up as The Commander, find a long red coat, put a lampshade on your head and call yourself Offred. Not as scary, but probably more recognisable!
Hannibal Lecter (Hannibal)
Pic: Sony Pictures
Who: The cannibalistic serial killer, based on the novels by Thomas Harris, and turned into a US drama starring Mads Mikkelsen.
What you'll need: Usually a navy blue suit, blue shirt and tie. Hannibal's a smartly dressed guy, so a handkerchief in your jacket pocket and hair in a neat side parting is also needed. Add fake blood to finish your outfit in style.
Pablo Escobar (Narcos)
Who: Colombian billionaire of a drug cartel in the 80s played by Wagner Moura in the Netflix series.
What you'll need: Dress unfashionable for this one. A yellow or beige shirt tucked in to dark trousers. Put a pillow in your shirt to get the full Escobar-esque muffin top, and don't forget the classic bushy moustache!
Grotbags (Grotbags)
(Pic: ITV/REX/Shutterstock)
Who: The witch from the classic kids TV show of the same name. Wear in honour of Carol Lee Scott, who played Grotbags, who died earlier this year.
What you'll need: Full witches outfit in all-black but add multi-coloured drapes. Paint your face green and wear a curly green wig. Add extra black lipstick and a beauty spot and perfect that cackle of yours when you ask for a trick or treat.
Get the What to Watch Newsletter
The latest updates, reviews and unmissable series to watch and more!