Bobby Ball: 'I'm still learning how to act'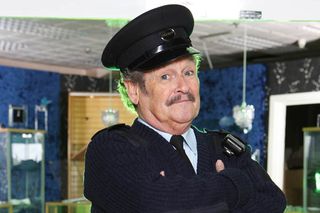 Following roles as Timothy Spall's manager in The Fattest Man in Britain, Lee Mack's father in Not Going Out and Sally Lindsay's father in Mount Pleasant, Bobby Ball (opens in new tab) returns to our screens this week in The Security Men (Friday), a new ITV comedy written by Caroline Aherne and Jeff Pope.
TV&Satellite Week magazine (opens in new tab) caught up the evergreen 69-year-old to find out more…
It's about four security men working the night shift at a Salford shopping mall… There's Brendan O'Carroll, who you will know as Mrs Brown, Dean Andrews from Ashes to Ashes and the wonderful Peter Wight from The Paradise.
It's not my first time playing a security man… In 1992, Tommy and I did a sitcom for ITV called Plaza Patrol. I was hoping I might be able to use the same uniform again for this, but I've put on a few pounds over the years.
I made my television debut in 1968… Tommy Cannon and I entered the talent show Opportunity Knocks. We came last. We were so bad, two places in Wales who had already booked us cancelled the bookings after they saw us.
I went off the rails a bit when I became famous… I was drinking and wasting my money on things I didn't need. But I wouldn't change a thing about my life. I had to go through that to get to the other side. It made me closer to my wife and family.
I always thought I was acting when I was doing the comedy shows… The character I was in Cannon and Ball wasn't me. It was a role I was playing.
I'm still learning how to act… Pauline Collins, who plays my wife in Mount Pleasant, taught me to hold back a bit more. In acting, she said, less is more. In comedy, it's the opposite.
Tommy and I still do our double act and pantos… We both say how lucky we are still to be working at our ages. It's better than welding, which is what we did before, because you don't have to get up at 7.30 in the morning and clock on.
Get the latest updates, reviews and unmissable series to watch and more!
Thank you for signing up to Whattowatch. You will receive a verification email shortly.
There was a problem. Please refresh the page and try again.