Boy Meets Girl star Denise Welch: 'I'm now the go-to mum for the trans community on telly!'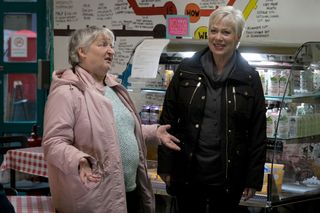 (Image credit: BBC/Tiger Aspect Productions/Mat)
As BBC2's hit romantic comedy Boy Meets Girl returns for a second series, former Corrie actress Denise Welch reveals what's in store for Pam, her son Leo and his trans partner Judy…
At a recent launch event for Boy Meets Girl, Denise Welch explained that the long-awaited second series of Boy Meets Girl is just as strong as the first…
"There's always a concern with a second series that things can change," she said. "But what all the cast and viewers loved is, although this comedy is groundbreaking in that Judy is transgender, that was just one part of bringing two crazy families together.
"Their romance that made it such a lovely watch and this needed to be just as strong. What's wonderful is this second series has stuck very much to the DNA of the first series."
In Wednesday's first episode, transgendered Judy (Rebecca Root) and Geordie lad Leo (Harry Hepple) are still in very much in love and making plans for a future together, but an exciting job offer for Leo throws a big curve ball into their relationship.
Meanwhile, Judy's mum Peggy (Benidorm's Janine Duvitski) is feeling poorly, which raises concerns all round, Judy's crazy sister Jackie (Lizzie Roper) starts a relationship with a pest controller Dean (Steve Marsh), and Leo's mum Pam attends a transgender support group for families.
"There's a lot of warmth between Pam and Peggy, and we explore more about these two mums coming together," Denise explained. "All the cast fell easily back into filming, and our characters, pretty quickly. I've been a fan of Janine for a long time, ever since Abigail's Party was on TV in the 1970s, and know her really well from doing Benidorm.
"I was very pleased there was a second series because I felt there was a bigger journey to be shown for all the characters and I was interested to see where Pam was going to go, especially because the first series finished quite dramatically with her finding out her son Leo was dating transgender Judy.
"Pam wasn't bigoted in her view of the trans community, but like any mum she was passionately protective of her children and wanted the easiest life possible for her sons, and she knew this choice of Leo's would mean difficulties."
Later in the series, a new trans character Charlie (Tyler Luke Cunningham) comes into Pam's life through the trans support group she's attending.
"It was interesting for me to get the scripts to see how Pam's life continued. In this second series Pam is embracing the trans community, and this is shown in the way she invites Charlie into her family home. So I've really enjoyed Pam's new journey."
Denise has nothing but praise for the Boy Meets Girl cast, writers and the BBC for commissioning a series that's doing so much for the trans community.
"In the past year, Boy Meets Girl has been great for moving the trans community forward," said Denise. "I've also played the mum of another transgendered character, Kyle in EastEnders. So I've played the mum and mum-in-law of two transgender characters in one year, which is an indication of how far things have moved on in the country.
"I'm obviously now the go-to mum and mother-in-law for the trans community on telly! I'm sure we will look back on Boy Meets Girl and feel we've been part of something quite special."
Denise revealed how she was already immersed in the LGBT communities before she joined the cast of Boy Meets Girl.
"Even before I did Boy Meets Girl I'd spent time around transgender people," she said. "I grew up with a father who was a drag artist called Raquel, my ex husband Tim Healy plays a transvestite Lesley in Benidorm and our son Matthew is a pop star in the band The 1975 who wears make up and is very metrosexual, and I have many gay friends. So having all these people in my life has meant I've immersed myself in that community more than maybe some other people.
"I've been hugely thrilled about all the awards our show has picked up. We all feel very special that we've seen Boy Meets Girl grow from a beautiful little acorn into an amazing series loved by so many."
Boy Meets Girl Series 2 premieres on BBC2, 10pm on Wednesday July 6
Get the latest updates, reviews and unmissable series to watch and more!
Thank you for signing up to Whattowatch. You will receive a verification email shortly.
There was a problem. Please refresh the page and try again.