Harry Hepple: It 'would be silly not to explore' the transgender sex angle in Boy Meets Girl (VIDEO)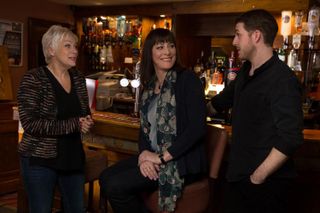 Boy Meets Girl is a new romantic comedy with a twist – a young heterosexual guy falls for an older woman, who just happens to have been a man!
The series starts on Thursday on BBC2 when Leo and Judy's eyes meet across a crowded bar, and it's love at first sight. Yet when they go on a date a few days later, Judy (Rebecca Root) has a shock in store for Leo – she used to be a man! "]
"Boy Meets Girl is a romantic comedy based on their relationship," explains Harry Hepple who plays Leo. "He actually takes it really well when Judy first tells him she's transgender, but that's his nature. Leo's an easygoing laidback guy, which is a really endearing quality he has."
Boy Meets Girl doesn't shy away from the issue of sex either which comes into an episode later in the series.
"It would be silly not to explore it, and it's great we do that really gently, through comedy," says Harry. "It demystifies a lot of stuff surrounding what it's like to be transgender."
One of the strongest women in Leo's life is his mum Pam, an opinionated, but loveable hairdresser played by former Coronation Street star Denise Welch…
"It was brilliant filming with Denise Welch, - she's playing everyone's favourite Geordie Mam," says Harry. "Leo's family are instantly recognisable, and really warm. They've got their problems and issues but they communicate really well.
"It's Leo's mother who will worry viewers most about how she's going to react when she discovers more about Judy! You first see her reacting to the age gap, which might give an idea how she might react later on when she finally hears Judy is transgender."
Harry, who's previously starred in Misfits and Hustle, had great fun on set, which included nearly a week of filming in a pub. 'Six days in a pub, surrounded by a lot of funny people was a struggle!" he laughs. "It was just really hard to get any work done."
He was also left in tears of laughter when acting alongside former Coronation street star Jonny Dixon, who plays Leo's brother James.
"He's really brilliant, such fun to work with,' says Harry. "We had a really nice brotherly vibe!"
Get the latest updates, reviews and unmissable series to watch and more!
Thank you for signing up to Whattowatch. You will receive a verification email shortly.
There was a problem. Please refresh the page and try again.