Bradley and The Chasers on the 1,000th episode: 'So much of the show has been a happy accident'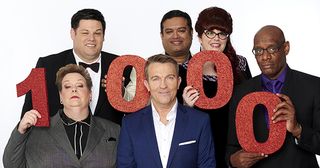 (Image credit: Dan Goldsmith)
The Chase turns 1000 next Thursday! To celebrate the anniversary of the ITV daytime quiz show, we turned the spotlight on host Bradley Walsh and Chasers Paul, Jenny, Shaun, Mark and Anne
Since it burst onto our screens back in 2009, The Chase has been quick to establish itself as the nation's teatime favourite, topping a triumphant first seven years by winning Best Daytime Show at the National Television Awards this year.
On Thursday (September 29), The Chase celebrates its 1000th episode with a special episode featuring all five of the Chasers.
TV Times caught up with host Bradley Walsh and the Chasers after they had just finished filming the episode to talk The Chase, celebrations and celebrity contestants.
You've just filmed the 1000th episode of The Chase. How did it go? Bradley: "Very good and entertaining! It was a slightly different format where all of the Chasers took part so it was very fun. We had a great contestant called John who was fabulous and he was great fun. We're thrilled that it's come this far. I think to do 1000 hours of daytime television and to still be at the top of the tree for the 1000th episode is fantastic."
What makes this episode so special? Mark: "I think it's because we had a very good team who were fun to play. It's a different atmosphere because we rarely see each other because of the scheduling. We very rarely get together as a five and we never really hunt as a pack." Anne: "Did he mention the fact that we're all here?!"
What's changed since the show launched in 2009? Jenny: "It's been a massive learning curve. I was very worried about how the public would perceive me and actually that hasn't been as bad as I thought. I've started to relax and enjoy it now!" Shaun: "I think what's changed is when we started out, we were just the professional quizzers, Mark and I, and as the show has progressed, we have become more and more relaxed and more ourselves, which has made the show more authentic."Mark: "When me and Shaun started on the pilot, we were very much told: 'Just answer the questions, maybe add a bit of fact and whatever you do, don't be pantomime villains'. When Bradley started using my nickname the producers said, 'No, none of that'. So much of this show has been a happy accident. Things have worked so by seasons three and four, the producers told us, 'do be pantomime villains and we need your nicknames!" Paul: "There was an episode with Mark where a contestant took the lower minus offer and the team was begging Mark to catch him. Before that episode, The Chase was just a general knowledge show, but then there was another level added on. It's very clear that more people watch the show for the gladiatorial competition rather than a love of general knowledge!" Mark: "We have a wider range of questions than Mastermind because on one hand we've been able to ask questions on highbrow things and on the other hand we ask about the Backstreet Boys. Mastermind would not ask that!"
How do you like to celebrate? Jenny: "In our down time we quiz each other to keep ourselves warmed up so probably a celebratory quiz."Paul: "By sitting in my bed learning more facts to ensure The Chase goes on and on and on." Anne: "I'm a total geek. I like to go home and surf the internet and just chill." Mark: "I try to bottle up the screams of delight I have for winning because it might be too triumphant. But they are there… Internally."Bradley: "I like an early night me! The thing with filming a show is that it has to be the same delivery at 10am as it is at 6pm. So you can't possibly go out! I go home, I watch a bit of TV with my son and then I go to bed because it's a long and tough old day."
Who's the most competitive? Shaun: "I think we're all equally competitive because we all equally want to beat the contestants and win. The ideal situation is where the contestants go home with zilch." Bradley: "Mark Labbett. Bar none and without a doubt."
If money and scheduling was no problem, who would you like to see play The Chase? Shaun: "Probably David Beckham…"Jenny: "Well, I would be fibbing if I didn't want some eye candy… Tom Hardy or Benedict Cumberbatch… They would be good! I think Brad would be a great contestant actually. He knows a lot on the sly and he doesn't show it all the time." Bradley: "They all bring something different. I'd like to see Ant and Dec come and do it because they love the show. It's a very well-loved show! People can get intimidated by it, but if you come on and have a laugh then it's a different ball game."
Who would play you in a film version of The Chase? Shaun: "Obviously Idris Elba, because he's the man of the moment; he could put on some glasses. He's a good looking boy." Jenny: "I hope I have a very long career and it gets to be someone like Maggie Smith. But seriously, Jessica Chastain would be very good because she's a redhead, but I don't think she could get my accent!" Paul: "Erik Estrada, who played Ponch in Chips. He looks a bit like me. Ann would be played by Jennifer Lawrence. I don't know who would play the Beast… He's one of a kind! Michael McIntyre is the only person I can think of who looks vaguely like the Beast."Bradley: "It would be a toss-up between Brad Pitt, George Clooney, Orlando Bloom… or Joe Pasquale."
Get the What to Watch Newsletter
The latest updates, reviews and unmissable series to watch and more!