Bradley Walsh: 'I can't help getting the giggles on The Chase. I've an infantile sense of humour'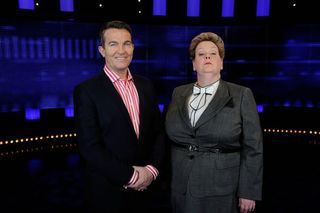 Former Coronation Street star Bradley Walsh talks to Soaplife about working on hit ITV quiz show The Chase (weekdays 5pm), and returning to acting…
Why is The Chase so successful?
"For a start, the format of the show is exceptional. I'm very much on the contestants' side, which is quite unique in a quiz show. It's like I'm a member of the team and we're all trying to beat the Chaser."
Are the Chasers as competitive as they seem?
"Absolutely. 'Frosty Knickers' Anne Hegerty, 'the Beast' Mark Labbett, 'the Barrister' Shaun Wallace and the rest are all professional quizzers and they're out to win at all costs. When they lose, it's like they've lost a penalty shoot-out at the World Cup!"
Does Anne frighten you a bit?
"Nah! We've got a bit of banter going on. 'Oh Anne,' I'll say, 'you're looking lovely today!' She knows I'm taking the mick and tells me to shut up. She doesn't look lovely at all. She looks like Miss Trunchball in the film Matilda!"
One of the best things about the show is you getting the giggles...
"I can't help it. I have a very infantile sense of humour and I just lose it. I never see the questions before I read them out and the question setters put double entrendres in on purpose because they know it'll get me going."
You're also known for Corrie and Law & Order UK… Is more acting in the pipeline?
"I really love acting, but I just haven't had time. We make 190 episodes of The Chase a year – that's one hell of a lot. Making TV drama is very time consuming. But I am in talks with ITV with regards to three different projects. I just need to clear the decks a bit. Watch this space!"
The Chase, ITV
Get the What to Watch Newsletter
The latest updates, reviews and unmissable series to watch and more!