Brenda Blethyn: 'A terrible thing happens when Vera returns – something she finds very painful'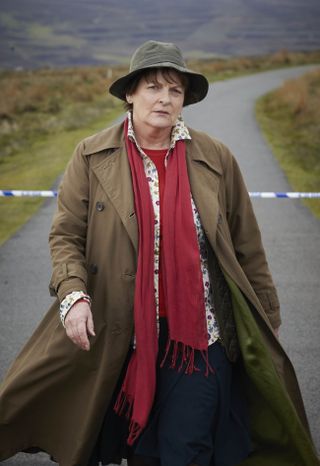 (Image credit: Helen Turton)
As Vera returns to ITV for a new series on Sunday, there's a personal tragedy for DCI Stanhope, as Brenda Blethyn reveals…
What's the dynamic like between DCI Vera Stanhope and her team this series? At first she seems a little offhand with DS Aiden Healy (Kenny Doughty), who's getting engaged…
"Vera loves her team, but she just wants to get on with the job and doesn't like to get too personally involved. The worst thing would be for Vera to be invited to Aiden's engagement party!"
Then DC Bethany Whelan (Cush Jumbo) confronts Vera, demanding to know why she's scuppered her chance for promotion to the Major Crimes squad…
"The reason Vera doesn't recommend Bethany for promotion is because she really does believe she's not ready for it; she thinks it's promotion just for the sake of promotion. Vera doesn't like being challenged by Bethany."
We know there's a very personal tragedy for Vera at the end of this week's opening episode. What can you tell us?
"We haven't really seen Vera's vulnerable side before, but it's a terrible thing that happens; something she finds particularly painful. Vera never really considers her own emotions. She doesn't look inward until she's forced to – but what happens in this episode certainly makes her do that."
So can we expect to see a change in Vera throughout the rest of the series?
"Fundamentally, no. No matter what life hits her with, Vera just gets on with things and carries on."
How would you say you're similar or different to Vera?
"Vera might not demonstrate that she's kind and generous, but people say I'm generous to a fault. I know I'm over generous, but I also find it really hard to accept a gift or a compliment. If someone pays me a compliment I say: 'Thanks' while inside I'm all in a fluster!"
When they meet you, what do the public say they like about Vera?
"Lots of people will say: 'I like that she's in charge of all those men!' Others think Vera's funny and real. That's nice to hear, that she's real."
Vera always attracts some brilliant guest stars – who can we expect to see this series?
"Alex Fearns is in the fourth and final episode – people will remember him as Trevor, who beat Little Mo in EastEnders. He's terrific – fun to work with and a really good actor."
Vera's filmed in the Northumberland countryside, which is beautiful but we know the weather can be volatile. Does that ever cause problems?
"It was so windy one day that the hat I wear as Vera blew across the moor, so I had to put a pin in it just to keep it on. It can get very cold, but I'm warmer than most because I've got all Vera's clothes on – although I do lots of running as Vera, so then I'm ripping them all off!"
Get the latest updates, reviews and unmissable series to watch and more!
Thank you for signing up to Whattowatch. You will receive a verification email shortly.
There was a problem. Please refresh the page and try again.