Brendan Coyle: 'Supernatural thriller Requiem weaves a subtle magic'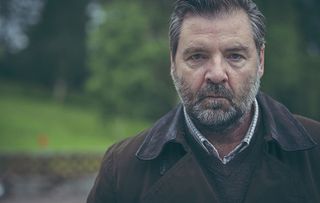 (Image credit: BBC/New Pictures/Adrian Rogers)
Former Downton Abbey actor Brendan Coyle on the thrills and chills in store in new drama Requiem
Spooky goings-on are the order of the day in BBC1's powerful six-part supernatural chiller Requiem. It sees Downton Abbey star Brendan Coyle play Stephen Kendrick, a retired cop who led the investigation into the disappearance of a little girl named Carys Howell from a Welsh village in 1994.
In the present day, cellist Matilda Grey (Lydia Wilson) turns up in the village of Penllynith wanting answers about photos her late mother had, which seem to be connected to the case.
Here, Brendan Coyle tells TV Times about his role in Requiem…
TV Times: Tell us about Kendrick
Brendan Coyle: "Kendrick was the chief investigating officer on the Carys Howell case and he retired soon after but stayed in the community. He has a son in the latter stages of a terminal illness and that's why he stayed but there's more to it. He's close to Carys' mother Rose [Claire Rushbrook] and there's something about being at the scene of the crime that compels him to remain. He brings an integrity to the piece, it would seem…"
TVT: How does Matilda's arrival impact on Penllynith?
BC: "She is met with hostility and clashes with everybody because they are trying to restructure their lives and carry on. Carys' disappearance is a scar that doesn't go away and still has a devastating effect. Others though see Matilda's arrival [pictured below] as a potential to reach resolution but that resolution is unexpected. Even Kendrick sought an outcome to the case that's not what you'd think."
TVT: What makes Requiem different from other horror or supernatural dramas?
BC: "The gloves really come off later on and it plays with things. Horror and the supernatural don't appeal to me but this is intelligent, restrained and interesting. It weaves a subtle magic."
http://www.youtube.com/watch?v=l6XYj8bLUIo
TVT: There are lots of twists and turn; did you guess how everything panned out?
BC: "There were so many theories going around set! We didn't get the last two episodes until later on, so we were drip-fed information about the final conclusion. It's very gripping and there are amazing plot twists so I was constantly surprised. There's so much I can't say!"
TVT: This is hugely different from Downton, was that part of the appeal?
BC: "It's hugely different to everything I've done, which is exciting. I am in touch with a couple of people from Downton still but at the end of everything you film, you go, 'I love you, you're amazing.' Then you don't see them for seven years. It's the way it goes."
Requiem begins on Friday 2nd February at 9pm
Caren has been a journalist specializing in TV for almost two decades and is a Senior Features Writer for TV Times, TV & Satellite Week and What's On TV magazines and she also writes for What to Watch.
Over the years, she has spent many a day in a muddy field or an on-set catering bus chatting to numerous stars on location including the likes of Olivia Colman, David Tennant, Suranne Jones, Jamie Dornan, Dame Judi Dench and Sir Derek Jacobi as well as Hollywood actors such as Glenn Close and Kiefer Sutherland.
Caren will happily sit down and watch any kind of telly (well, maybe not sci-fi!), but she particularly loves period dramas like Call the Midwife, Downton Abbey and The Crown and she's also a big fan of juicy crime thrillers from Line of Duty to Poirot.
In her spare time, Caren enjoys going to the cinema and theatre or curling up with a good book.
Get the latest updates, reviews and unmissable series to watch and more!
Thank you for signing up to Whattowatch. You will receive a verification email shortly.
There was a problem. Please refresh the page and try again.