Call the Midwife star Jennifer Kirby: 'Valerie has a feminist streak'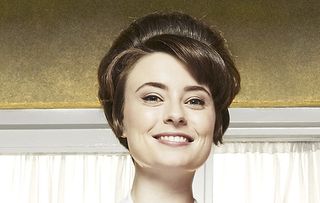 (Image credit: BBC/Neal Street Productions/Nick)
Jennifer Kirby on what's in store for her Call the Midwife character Valerie and why she's she's glad the spirited nurse isn't looking for love
Nurse Valerie Dyer, played by Jennifer Kirby, is one of the kindest but most fiery residents of Nonnatus House. In this week's Call the Midwife, there are tensions in store as she runs a sex education class.
Here, Jennifer Kirby tells TV Times what lies ahead for Call the Midwife's Valerie…
TV Times What does Valerie get up to this week?
Jennifer Kirby: "She's running sex education classes because she feels that girls should have as much information as possible. That was fun to film, drawing on diagrams! She and Lucille [Leonie Elliott] have very different opinions on it. One girl's mum also takes strong exception. Valerie gets angry but she helps sort the underlying issues that this lady has."
TVT What do you love about Valerie?
JK: "She is forthright but vulnerable because we have seen how she was bullied in the army. That has taken its toll. So she has two interesting layers to her because she has confidence in her ability but also an undercurrent of having gone through a difficult experience."
TVT Will there be any romance for her?
JK: "You'll have to ask our creator Heidi Thomas! I don't mind if she doesn't have any because it's nice that she is independent, defiant and has a feminist streak. She has been to all kinds of places on her own so it would take a special person to seduce Valerie."
TVT What reaction have you had to Valerie from viewers?
JK: "One of the loveliest things I had was from a doctor who, after he watched the Christmas special [when Valerie dealt with what initially appeared to be a stillbirth], said he loved the way that I portrayed the anguish that every doctor and nurse feels acutely when they lose a patient."
TVT Valerie has a new beehive hairstyle this series; does it take ages to do?
JK: "No, but it takes lots of dry shampoo and backcombing! There was a picture of Audrey Hepburn from later in the 60s with almost that exact hairdo and it looks so cool."
TVT This is your second series on the show; do you still get star-struck?
JK: "Yes! Some days I can't believe it. I was talking to Linda Bassett [Nurse Crane] about it because it is the weirdest thing to think in my early teens I sat watching Calendar Girls with my sister and I had no idea that I'd one day be working with her. Linda said she has felt the same about actors she has worked with. If you went back in time and told yourself you'd be doing it, you'd never believe it!"
TVT Do your family enjoy watching you in the show?
JK: "They love it and watch it every week. My dad is now an avid fan and he has gone back and watched all the series. They still find it surreal to see me on telly and also sitting in the front room but they're very proud."
TVT This is your first big TV role, has it changed things for you?
JK: "I just feel a lot more experienced now with acting to camera and I feel as comfortable with that now as I did with being on stage, which I'd done a lot of before. It would be nice to do something contemporary and wild and different now. But I just want to do as much as I can."
TVT What is next for you?
JK: "Filming starts again on the next series in April. It will be really nice to be back with everyone. We do keep in touch in between. Jack [Ashton who plays Tom Hereward] is in a play [Strangers on a Train] and Laura [Main, who plays Shelagh Turner] is in Shrek the Musical, so we're all planning to go and see them en masse. We all get along so well and are so close."
Call the Midwife continues on Sunday on BBC1 at 8pm
Get the latest updates, reviews and unmissable series to watch and more!
Thank you for signing up to Whattowatch. You will receive a verification email shortly.
There was a problem. Please refresh the page and try again.