Claire Goose and Matt Bardock preview 'brutal, fantastical' new daytime drama, The Coroner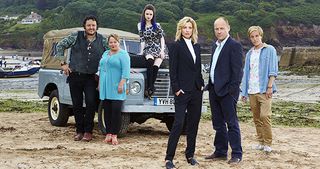 (Image credit: BBC/Mike Hogan)
Claire Goose (opens in new tab) and Matt Bardock (opens in new tab) are both buzzing about the brand-new series that has finally brought them together and can't wait to tell TV Times (opens in new tab) all about it when we meet for a cuppa in a London hotel.
The Coroner, a 10-part daytime drama is set in the fictional world of Lighthaven in Devon, where local coroner Jane Kennedy (Claire) and DS Davey Higgins (Matt) join forces to investigate mysterious, baffling and downright disturbing deaths.
With a grisly demise in each episode, they've got their work cut out.
Have Jane and Davey got history?
Claire: "Yes. Jane is originally from Devon ,but she's been away for 20 years. She has decided to go back home and live with her mum and give her 15-year-old daughter, Beth [Grace Hogg-Robinson], a stable upbringing. Her marriage has failed and she just wants to leave her life in London behind. Jane doesn't anticipate that her new job means she'll be working so closely with her former flame. Jane and Davey were childhood sweethearts, but he went and snogged someone else, so that was the end of that!
"Davey is now married – to the girl he snogged, by the way – but it becomes apparent as the series progresses that there's quite a lot of chemistry between them."
Matt: "Davey is the boy she left behind. He's never moved away and all he knows is the local South Hams area so he's kind of simple in that regard."
Tells a bit about the first case this week, which is an apparent suicide when the body of a boy is discovered at the base of a lighthouse...
Matt: "It's not so clear-cut, and they're soon asking, 'Did he fall or was he pushed?' Jane and Davey question the close-knit community and soon suspect that this dangerous corner of Devon is a hotbed of secrets, lies, and betrayal."
The series sees some unusual and mystical cases, some of which are based on real-life local myths and legends...
Matt: "Each case is very different. We've got mermaids, pirate treasure… it's quite fantastical in a way. There are some really dark stories, but in a beautiful Devon setting."
Claire: "Some episodes are quite brutal. I was quite surprised by what we could get away with considering it's daytime."
You've both done crime dramas before, so why are you both so excited about this one?
Matt: "It's the fact that it's something new. It's not like we're joining an established series after two or three years. It's a blank page and it's great to be able to create something and give it some life."
Claire: "Also, it's quite unusual for a female in her 40s to be leading so that is a big tick in the box for me. I'm really proud of it, and I think it's the hardest job I've ever done in terms of sheer stamina. It's so different from working on Waking the Dead and Casualty, and I feel really protective of this show."
What was it like filming in Devon?
Claire: "Stunning. A great treat. It was a treat for the locals too. They loved it, plus they were never short of an opportunity to tuck into some seaside grub. There are quite a lot of scenes in which we're eating chips. In fact, we eat chips a lot, which is great until you get outside and suddenly there are loads of seagulls waiting for you…"
Even though you both starred in the same TV classics – Casualty, New Tricks, The Bill – did your paths ever cross on screen?
Matt: "We'd only ever met once, years ago."
Claire: "Yeah, and we didn't like each other!"
Matt: (giggles) "We've both got the same sense of humour, which helps when you're cast as a leading duo."
The Coroner premieres on BBC1 on Monday, November 16 and screens each weekday for a fortnight.
Get the latest updates, reviews and unmissable series to watch and more!
Thank you for signing up to Whattowatch. You will receive a verification email shortly.
There was a problem. Please refresh the page and try again.