Claire Goose: 'Dark Heart is not light-hearted!'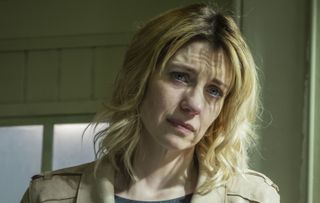 As she guests in Dark Heart, Claire Goose reveals all about cops, crime drama and changing times
In crime dramas from Waking the Dead to The Bill and The Coroner, Claire Goose has investigated some complex cases in her time. But next week she's on the receiving end of probing enquiries as she guest stars in ITV thriller Dark Heart.
The actress plays troubled Phoebe Kyriacou, who becomes embroiled in a chilling two-part investigation when DI Will Wagstaffe (Tom Riley) looks into the bizarre death of a nurse at a London Tube station.
Here Claire Goose gives TV Times the lowdown on guest starring in Dark Heart…
TV Times: What can you tell us about Phoebe?
Claire Goose: "She knows her husband is lying about something and events unravel. After the police turn up, she ends up in deep shock about what has been going on. When I read it I didn't really know which way it was going to go but it's not light-hearted, it's dark - because it's Dark Heart!"
TVT: Why did the show appeal to you?
CG: "Tom's brilliant and I worked with the writer Chris Lang before on [ITV dramas] Unforgotten and Undeniable and his writing's so moving and real."
TVT: You've played several criminal investigators yourself, was it strange be a suspect?
CG: "It was funny to be on the other side, you ask less questions, you just give the answers! But it was such a fun job and the sort of thing I love to watch."
TVT: Are you a big crime drama fan then?
CG: "I watch everything! We've just hoovered up Killing Eve, which was so different and quirky, and the latest Unforgotten was brilliant. But I've not had evenings free to watch anything for months because I've just been in the theatre."
TVT: You've been in several long-running series, would you be up for another?
CG: "I'm not averse to it. I'd like to play a real person because I love doing research so that would be rewarding. I want to develop some script ideas too. There's a sea change on telly now in terms of women's stories and we're seeing their lives when they hit 40 are more interesting and complicated than in their 20s."
TVT: Would you be up for doing anything like Strictly or I'm A Celebrity?
CG: "No, I'm quite private so that attention I'd find overwhelming. My girls [Amelia, nine, and Eveline, six, with TV producer husband Chris Woodrow] would love me to do Strictly but sitting in the jungle being filmed 24/7 is my idea of hell!"
Dark Heart continues on Wednesday and Thursday on ITV at 9pm
Get the latest updates, reviews and unmissable series to watch and more!
Thank you for signing up to Whattowatch. You will receive a verification email shortly.
There was a problem. Please refresh the page and try again.